Celebrate Labor Day with Easy and Delicious Topsy's Popcorn Bags
August 31, 2023
Labor Day is just around the corner, and that means one thing: quality time with family and friends as you bid farewell to summer. If you're looking for a tasty and convenient snack that will delight your guests, look no further than Topsy's Popcorn.
In this article, we'll guide you through creating your very own popcorn bags using Topsy's Popcorn.
Get Started by Purchasing Topsy's Popcorn
Before you can get creative with your popcorn bags, you'll need to buy some Topsy's Popcorn. The best part about Topsy's is the variety of flavors they offer: Classic Butter, Cheesy Cheddar, Caramel, and more! Simply go to their website or visit a local store to make your selection.
You can find your bags either online or in your local crafting store.
Creating Your Popcorn Bags
Once you have your Topsy's Popcorn, it's time to assemble your popcorn bags. For this, you'll need:
Clear plastic bags
Ribbons in red, white, and blue (for that Labor Day vibe!)
Name tags or stickers
Optional: small American flags for decoration
Preparation: Open your Topsy's Popcorn and place it in a large bowl.
Assembly: Take your clear plastic bags and fill them up with your chosen popcorn flavor.
Sealing: Twist the top of the bags and secure them with a ribbon.
Personalization: Add name tags or stickers, and if you want to go the extra mile, tuck a small American flag into the ribbon.
Voila! Your Topsy's Popcorn bags are ready for your Labor Day celebration.
Labor Day: A Time for Family and Community
Labor Day is more than just a long weekend; it's a celebration of American workers and the contributions they make to the prosperity and well-being of the country. Originating in the late 19th century, Labor Day has always been a time for gathering with loved ones and enjoying the fruits of our labor. And what better way to commemorate this special day than with a simple, yet delightful, snack like Topsy's Popcorn bags? They're easy to make, delicious, and perfect for sharing—the epitome of what Labor Day is all about.
Celebrate with Topsy's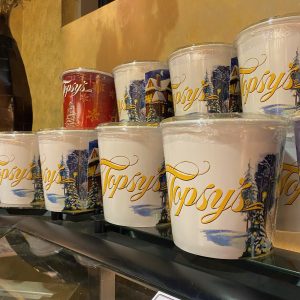 Celebrate Labor Day in the best way possible—with family, friends, and Topsy's Popcorn! These popcorn bags are not just treats; they're a tribute to the American spirit of hard work, community, and, of course, good food. So why wait?
Buy your Topsy's Popcorn now and make this Labor Day one to remember.
Here's to a wonderful Labor Day filled with love, laughter, and popcorn!
More On: