Celebrating International Country Music Day
September 15, 2023
Get Your Boots On!
Ever wondered where the soul-stirring melodies and foot-tapping beats of country music originated? Before you pull out those cowboy boots and guitars for International Country Music Day, let's take a stroll down memory lane.
Country music has its roots deep in the soil of American folk music, specifically the Appalachian region. It's a harmonious blend of ballads, dance tunes, and blues that tells the stories of life's ups and downs. The genre has come a long way since its beginnings, evolving into numerous sub-genres like country rock, pop country, and bluegrass.
When you're listening to your favorite country song, remember your part of a rich history that connects countless generations.
Why September 17th?
Now, why is September 17th a date to mark on your calendar? Oddly enough, the origins of International Country Music Day are a bit murky. Some say it coincides with the birth date of Hank Williams, one of the most celebrated country musicians of all time. Others argue that the date was randomly selected to simply celebrate the genre and its global impact. Regardless of its origins, the day serves as a dedicated time for fans around the world to come together and honor the music that has brought so much joy, solace, and a sense of community to so many lives.
Here are a few ways to celebrate this Sunday.
Host a Country-Themed Party
Deck out your space with hay bales, bandanas, and cowboy hats. Invite your friends over for a hoedown, complete with country line dancing. Curate a playlist of your favorite country hits, old and new, and let the music guide you.
Take a Virtual Tour
Due to its international appeal, many online platforms host virtual country music concerts and events on this day. Join in and immerse yourself in the global country music scene, perhaps discovering a new favorite artist from a different part of the world.
What's a celebration without good food? Whip up some classic Southern dishes like fried chicken, cornbread, or a hearty stew. Eating to the rhythm of country tunes will make your feast even more special.
Support Local Artists
Many local venues will host special events to celebrate this day. Check out the country gigs happening in your area and take the time to support your local musicians.
Enjoying Music with a Snack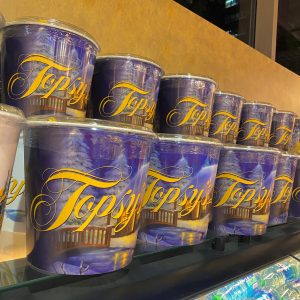 Embrace the spirit of International Country Music Day by diving into its rich history and joining in the festivities. Whether you're a long-time fan or new to the genre, there's no better day to explore the multifaceted world of country music.
While you're at it, grab yourself a tin of Topsy's popcorn. You can purchase yours by visiting us online or by giving us a call at 816-523-5555.
So, grab your cowboy hat, pull on those boots, and let the strumming of the guitar fill the air. End your celebrations by kicking back and losing yourself in the story told by your all-time favorite country song.
More On: