Savor Topsy's Popcorn This National Lazy Mom's Day
September 1, 2023
On September 1st, we celebrate a special day that might just be the perfect antidote to the hustle and bustle of mom-life: National Lazy Mom's Day. Yes, it's a real holiday dedicated to all the moms who work tirelessly every day. On this day, moms are encouraged to kick back, take a break, and indulge in some well-deserved relaxation.
And what could be better than enjoying this lazy day with a delicious tin of Topsy's Popcorn by your side?
When you shop for Topsy's Popcorn, you have the option to customize your tin and select between a variety of flavors that even include pretzels!
In this article, we'll encourage you to take a break on National Lazy Moms Day.
The Perfect Lazy Day Companion: Topsy's Popcorn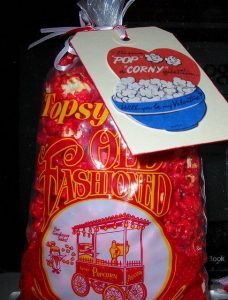 Picture this: you're lounging on your comfy couch, remote in one hand, and a tin of Topsy's Popcorn in the other. Sounds like heaven, doesn't it? Topsy's Popcorn offers a variety of tins filled with your favorite flavors—Classic Butter, Cheese, and Caramel, just to name a few. Whether you're a savory or a sweet snacker, there's a Topsy's tin for you.
The Chiefs Tin for Sports Fans
We've got something special for our Chiefs. Just in time for the season opener, Topsy's has rolled out the Chiefs Tin. Now, you can celebrate our team in the most delicious way possible. The Chief's Tin is adorned with team colors and logos, and it's filled with your favorite popcorn flavors.
It's the ideal snack for watching the game, and it makes for a perfect gift for the football fan in your life.
Why Topsy's Popcorn is a Lazy Day Essential
On National Lazy Mom's Day, it's all about ease and enjoyment. The beauty of Topsy's Popcorn is that it's hassle-free—you don't have to cook or prepare anything. Just pop open a tin, and you're good to go. Plus, each tin comes with a resealable lid, making it easy to keep your popcorn fresh if you decide to savor it over multiple lazy days (because let's face it, one day is never enough).
Choose Topsy's Popcorn
National Lazy Mom's Day is your day, so make the most of it. Reclaim your time and treat yourself to a tin of Topsy's Popcorn. You've earned this day of indulgence, so why not elevate it with the best snack possible? Click here to purchase your favorite Topsy's Popcorn tin today and make this National Lazy Mom's Day a delicious one!
So go ahead, be lazy, and let Topsy's Popcorn bring the flavor to your relaxation. 🍿
More On: