A Day Out with The Kids
October 31, 2022
Things to Do In Kansas City
From science and antique toys to eateries, Kansas City is brimming with kid-friendly activities. By searching online for the best Kansas City indoor kid activities, you get a variety of indoor activities your kids can enjoy. You can make the search more specific if you are looking for kid-friendly activities near your location.
Keying in the phrase "indoor activities for kids near me" will get you all the available indoor activities within your vicinity. You can also search for "activities for kids near me" for indoor and outdoor adventures for toddlers and preschool kids. However, you can avoid the searching hassle and visit these fun-filled indoor activities in the City of Fountains.
Here are activities to do with kids in Kansas City.
Visit Science City
Satisfy your kids' craving for exploration and freedom by taking them to a mindblowing place like Science City. These young scientists will have fun using real laboratory tools without the frequent "don't touch that" phrase they are used to at home.
Science City offers multi-sensory learning that encourages kids to experiment and learn with their natural imagination and curiosity. Don't worry about safety. Safe laboratory tools are used in multi-sensory learning activities.
Here are some of the activities kids can enjoy in Science City:
Creating circuits using electronic blocks.
Designing an animal that will perfectly fit on a genetically engineered planet.
Creating an animal's armor.
Learn the physics of sound.
Differentiate between a reptile and an amphibian.
Stop by Minsky's Pizza
After hours of experimentation and exploration at Science City, the next stop should be Minsky's Pizza for savory pizzas. At Minsky's Pizza, every bite is loaded with flavor. They have gluten-free delicacies that are safe and healthy for kids.
Minsky's Pizza was voted Kansas City's best pizza, so you are guaranteed to eat the best pizza in the city. Depending on the number of members in your family, you can choose from the Family Fun Pack, where you get two large gourmet pizzas plus one order of jumbo wings, or the Showtime Pack with eight large gourmet Pizzas and four orders of Jumbo wings.
Minsky's has a range of combo packs to choose from at an affordable price.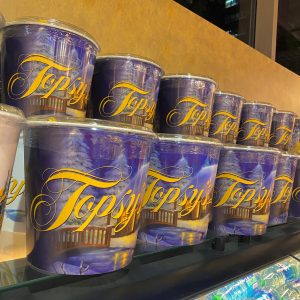 End the Day with a Sweet Treat from Topsy's Popcorn
Among the fun activities to do with kids in Kansas City, snacking is one of them. No kid-friendly activity can be complete without Topsy's Popcorn. It's the best way to wind up a fun-filled day.
Why have Topsy's popcorn? First, Topsy's Popcorn is the oldest merchant in Kansas City, giving a taste of tradition in every bite. Secondly, you can choose from a variety of rich flavors. Topsy popcorn tins come in different attractive themes also! There is always something for everybody. Let the kids choose from patriotic star-spangled canisters, pretty floral tins, baseball-themed tins or black and gold canisters filled with their favorite treat.
If you are looking for kid-friendly things to do in KC this weekend, start with Science City, eat at Minsky's Pizza and end the day with your favorite snack from Topsy's Popcorn.