Three Super Bowl Popcorn Recipes for the Big Game
February 10, 2022
The Chiefs might not be going this year, but you can still celebrate Kansas City with Topsy's super bowl popcorn.
Our massive popcorn tins can easily feed your team. A few tricks can turn Topsy's popcorn into a flag for your team.
Super Bowl Popcorn Varieties
            Bengals Tiger Stripe Popcorn
            Yes, the traditional name for this is "Zebra Stripe." But this wouldn't be the first time the rules are bent at the Super Bowl.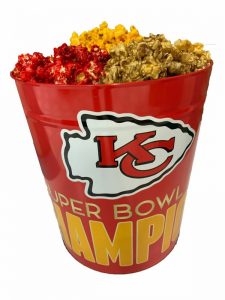 Recipe:
Melt milk chocolate in the microwave. Allow chocolate to cool before pouring into a piping bag.
Lay down caramel popcorn on a baking sheet and drizzle thin stripes of chocolate using the piping bag.
Enjoy!
Rams M&M Popcorn
M&M and popcorn pair as well at the Super Bowl as they do at the movie theater. Show support for the Rams in the easiest way possible.
Recipe:
Separate blue and yellow M&Ms
Mix in with caramel flavored popcorn and enjoyed
Chiefs Party Popcorn
Because you know that they'll earn the crown next year.
Recipe:
Put white frosting in a small-tipped piping bag
Lay chocolate-covered almonds on a baking sheet. Using the piping bag, create a central vertical line. Cross smaller horizontal lines on top of the vertical line until it resembles a football.
Mix the almonds in with cinnamon popcorn. Add your choice of yellow and red candies and enjoy!
 Make Party Popcorn Your Super Bowl Snack!