5 Toppings To Put on Popcorn
July 31, 2023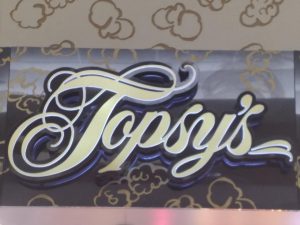 You've enjoyed popcorn in its classic forms—buttered, cheesy, and Topsy's sweet yet spicy cinnamon. But have you ever experimented with toppings to give your favorite Topsy's popcorn an extra zing? That's right, popcorn toppings are a thing, and they're a fantastic way to customize your popcorn experience.
Let's explore easy, around-the-house ingredients that can elevate your popcorn game!
Sweet Toppings
Starting with a base of Topsy's classic buttered popcorn, consider adding a drizzle of your favorite syrup. Have honey, maple syrup, or maybe agave nectar in your pantry? A drizzle can sweeten up your popcorn and give it a unique twist. Be sure to stir it well to ensure every kernel tastes of sweet goodness.
If you're in the mood for a sweet treat, consider adding chocolate to your popcorn. Melted dark chocolate drizzled over Topsy's Caramel Popcorn makes for a decadent dessert. Or for a simpler alternative, a dusting of cocoa powder can add a delightful chocolatey note.
Spicy Toppings
Looking for a way to add a kick to your popcorn? Look no further than your spice rack. Add a sprinkle of chili powder, a dash of paprika, or even taco seasoning to your Topsy's popcorn. It's a great way to add a burst of flavor and a touch of heat.
If you want more sweet heat, check out Topsy's cinnamon-flavored popcorn and add a scoop of vanilla bean ice cream.
Nuts, Seeds, and Cheese Toppings
Adding a handful of your favorite nuts or seeds when eating popcorn not only introduces a new texture but also adds a punch of flavor. From lightly toasted almond slivers to roasted pumpkin seeds, these simple ingredients can take your Topsy's popcorn snack from good to gourmet.
If you're a cheese lover, why not sprinkle some grated parmesan or sharp cheddar over your Topsy's cheese popcorn? It's a great way to enhance the cheesy goodness and add a layer of complexity to your snack.
With Topsy's Popcorn, you have the perfect canvas for your flavor masterpieces. Our popcorn's robust, flavors are a great base to experiment with toppings and create your unique popcorn experience.
Choose Topsys!
Ready to start your flavor adventure? With Topsy's Popcorn and your kitchen pantry, the possibilities are endless. Order your favorite Topsy's Popcorn now and let your culinary creativity shine. Let's pop, top, and enjoy!
More On: