Popcorn In The Pandemic
October 9, 2022
A Time To Binge
Over the last two years, the COVID-19 virus has kept many of us inside. We've gone from working in the office and attending public school to doing everything remotely.
During the outbreak of the pandemic, one thing that was noticeable was the conversion from movies being only available in theaters to them being available for purchase through services like Amazon.
The world watched as new streaming services came forth. Affordable services like Peacock, Tubi and Freevee lent a helping hand to viewers worldwide.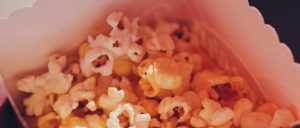 Binge watching new and old tv shows served as a form of social interaction and comfort. However, a binge-watching session isn't complete without popcorn.
Topsy's Popcorn has been offering fresh and delicious popcorn for decades. With flavors including cinnamon, butter, caramel, and cheese.
Topsy's Popcorn is available online or by calling (816) 523-5555.
Let's discuss a few shows to pair with your choice of Topsy's Popcorn.
Joe vs. Carole
If you were a fan of the hit show Tiger King, then you'll enjoy Joe vs. Carole available now on Peacock. This show is scripted and offers a more in depth look at the two opposing forces.
Kate McKinnon plays Carole Baskin. A Woman who has a love for felines and a passion for animals in general.
John Cameron Mitchell plays Joe Exotic. A Man who considers his lions to be his family and friends.
Joe Exotic and Carole Basking begin a fiery showdown on screen because Carole believes Joe is mistreating his animals. As the story unfolds, we experience Carole losing her Husband and Joe opening up about his relationship struggles.
This show pairs well with Topsy's cinnamon popcorn. The sugar and spice the cinnamon offers is exactly the level you'll see as you watch Joe vs. Carole.
Unborn
Are you someone who enjoys horror films with a spiritual element? If so, then Unborn, available on Tubi, is the movie for you.
It's a great movie to enjoy with Topsy's buttered popcorn because this is a story you won't want to pause at all. It's will reel you in as you learn about a woman who's expecting her first child with her partner named Rachel.
After trying and failing to get pregnant with her partner, Rachel has finally got a little bun in the oven. The excitement of starting this new life is zapped from Rachel when she suspects that her unborn child may be her mother, reincarnated.
Follow along with a fresh bowl of Topsy's popcorn as old family beliefs are tested against faith.
The Shape of Water
Do you find movies set in other worlds interesting to watch? Are you a hopeless romantic? Then the Shape of Water is an excellent story.
The visuals are rich with color in this film, and it's set in the 1960s. On screen, you see the strength of a Woman in love attempting to free her amphibious creature of a Man who's being held captive at the facility she works for.
Her goal is to free the love of her life so possibly one day, they can be together. Join her on this journey and fall into a whirlwind romance with the characters.
Topsy's caramel popcorn is the recommended snack of choice to enjoy with this film. It's sweet, has some crunch to it and is available by going online or calling (816) 523-5555.
Topsy's Popcorn, Perfect For Any Binge-A-Thon
No matter what you choose to watch or who you choose to watch it with, adding Topsy's Popcorn to the moment will make it magical.
Topsy's Popcorn is available online or by giving us a call.
Topsy's Popcorn, keeping things magical.