The Top 5 Summertime Flicks from The Early 2000s
June 20, 2023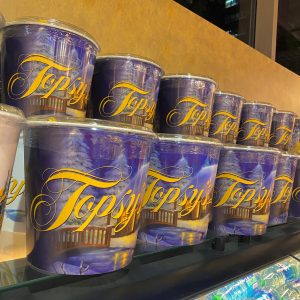 As summer kicks in, there's nothing more pleasurable than sinking into the couch with a bowl of your favorite popcorn, reliving the nostalgia with some feel-good movies from the early 2000s. Luckily, Topsy's Popcorn is here to enhance your experience.
Give us a call at (816) 523-5555 or shop online to bring home the perfect movie-time snack. Let's pop into five movies you should rewatch this summer!
Summertime Movies and Popcorn Pairings
There's something genuinely magical about the nostalgia of summertime movies. As the sun sets on a balmy evening and the crickets perform their symphony, the screen lights up with familiar faces and stories from a time not so far away, yet distant enough to bring a warm, comforting glow of nostalgia.
Here are 5 summertime movies that do just that.
Almost Famous (2000)
The early 2000s' wave of summer movies wouldn't have been complete without Cameron Crowe's coming-of-age masterpiece, "Almost Famous." This film takes you on a nostalgic journey through the 70s rock 'n' roll era. Be ready to pair your Topsy's Popcorn with the sweet taste of nostalgia and great music!
The Royal Tenenbaums (2001)
There's nothing quite like the warm, quirky charm of a Wes Anderson film to compliment a summer evening. "The Royal Tenenbaums" combines eccentric characters with a poignant exploration of family dynamics. While you explore their world, indulge in the delightful crunch of Topsy's Popcorn.
The Fast and the Furious (2001)
Your summertime movie marathon won't be complete without the adrenaline-pumping action of "The Fast and the Furious." As the engines roar and the cars zoom, match the on-screen intensity with the fiery flavor of Topsy's Cinnamon Popcorn.
Finding Nemo (2003)
For a family-friendly choice, delve into the enchanting underwater world of Pixar's "Finding Nemo." As you embark on a journey through the ocean, enjoy the light and airy experience of Topsy's Classic Popcorn – it's the perfect under-the-sea companion!
Pirates of the Caribbean: The Curse of the Black Pearl (2003)
Escape the summer heat and sail into the thrilling adventures of Captain Jack Sparrow in "Pirates of the Caribbean: The Curse of the Black Pearl." The swashbuckling fun pairs perfectly with the salty, savory taste of Topsy's Cheese Popcorn.
Now that you have your movie line-up, don't forget the all-important popcorn! Whether it's the fiery cinnamon, classic butter, or savory cheese, there's a Topsy's Popcorn for every film on this list.
Choose Topsy's Popcorn
While we've already paired each of these classic 2000s flicks with a specific Topsy's Popcorn flavor, it's essential to spotlight the diversity of offerings that Topsy's has in their repertoire. Known for its unique blend of flavor and freshness, Topsy's Popcorn offers a tantalizing selection that goes beyond the traditional buttered popcorn.
Cinnamon, cheese, and caramel are just a few standouts in the plethora of flavors available. If you're a fan of sweet and savory combinations, Topsy's Caramel Popcorn is an irresistible choice. Each kernel is coated in a golden layer of caramel that provides the perfect crunch. On the other hand, Topsy's Cheese Popcorn offers a rich, savory delight for those who enjoy a tangy twist. The Cinnamon Popcorn is another crowd-pleaser, with a sweet-spicy mix that leaves a delightful aftertaste.
Topsy's Popcorn also stands out with its variety of container sizes, catering to every occasion, big or small. Whether you're planning a solo movie night or hosting a large gathering of friends, Topsy's has got you covered. Their individual-sized containers are perfect for a personal treat, while the family-sized tins are ideal for sharing during group movie marathons. For a more lavish affair, you can opt for the giant party-sized barrels.
Moreover, Topsy's thoughtful packaging ensures that you can enjoy their delicious popcorn at its freshest. The resealable containers maintain the popcorn's perfect crunch and flavor, even after opening, ensuring you have a perfect movie-watching experience from start to finish.
Topsy's Popcorn, It's The Good Stuff!
As you plan your summer movie nights, remember to match the movie's excitement with Topsy's Popcorn's flavorful offerings. Visit Topsy's website or call them at (816) 523-5555 to choose your popcorn today. Remember, a summer movie marathon without Topsy's Popcorn is like a movie without a soundtrack – still good, but not quite complete!