Popcorn & Netflix: Let's Have a Teleparty!
August 10, 2022
Popcorn & Netflix
Today we utilize the internet and technology more than ever! We work from home, go to school from home and watch our favorite movies and tv shows from home!
Thanks to the pandemic, we all have had to practice social distancing. People had to adjust to the new normal ways of life and look for different ways to stay connected.
To seek out entertainment, we have turned to streaming services like Netflix, Amazon Prime and YouTube. We even order our groceries online, making sure that in one of those bags, there's popcorn ready to go for the show.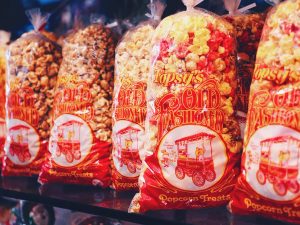 What is Netflix party?
Back in 2008, Netflix started having a party feature that was available on Xbox that enabled users to share movie ideas with their friends. Surprisingly enough, it peaked with only 5% of users
adopting to the platform.
That all shifted when Covid-19 hit in 2019. Online players and viewers found themselves using this forgotten about party section to stream services
with their friends and family. Netflix party became Teleparty.
How To Use Teleparty
The teleparty extension download is available in your app store and is supported by Chrome. It's a quick and easy installation done within seconds. Once complete, you'll add the teleparty extension to your chrome browser, go to a streaming site and open any show you would like to watch.
To create your teleparty, click on the TP icon, then start party.
Grab your popcorn, it's time to invite that special friend!
Snacks For a Movie Night Date
Did you know that by the 1930s, popcorn was introduced as a snack during the Great Depression? What started out as a business move became a staple for enjoying a good movie.
Popcorn and movie theaters started their long-term commitment to each other and much hasn't changed since then. Even making popcorn at home has became a thing since the pandemic and to make things much easier, Topsy's popcorn has come to your rescue.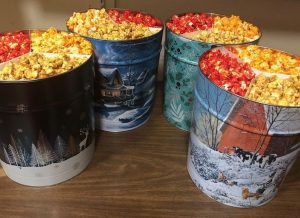 Topsy's Popcorn offers a variety of popcorn tin designs with flavors including buttered popcorn, caramel Our most popular decorative tin is a view of The Plaza Lights. Every holiday season it's a
beautiful display located in Kansas City, MO, the home of Topsy's Popcorn.
At Topsy's popcorn we give you size options from 1 gallon tubs up to 6.5 gallon tins. Don't worry, if you run out of popcorn we have refills available
online and in store.
Order your popcorn tin today and enjoy our fresh popcorn while enjoying your favorite Netflix show with the one you love.