Enjoy Movie Theater Popcorn at a Home Cinema
February 16, 2022
Everyone loves the smell of movie theater popcorn and plush seats that come with going to the cinema. With a few interior tricks, you can recreate the magic of the movies at home.
Steps to Create a Home Movie Theater
Choose a Good Location
Just because your home theater is smaller doesn't mean that it can't feel big. You'll want a room big enough to fit several seats and a screen. Family rooms and basements are ideal for converting to a home theater.
Have a Cinematic Sound System
Hearing rom-com raindrops and action movie explosions transports you to the world of film. A 7.1 surround system can make the movie take you away. Set up speakers across the room to recreate the surrounding sound of movie theaters.
Set the Mood with Lighting
You always know a movie is about to start when the lights slowly dim. Installing dimmer lights recreates this experience for guests. Those that want to replicate their local theater can line sconces along the walls.
Get a Theater-Worthy Screen
A giant screen makes the difference between a cinema and a living room. A romantic projector turns any room into a cinema. If you want to want to use your theater to catch the big game a large flatscreen is your bet.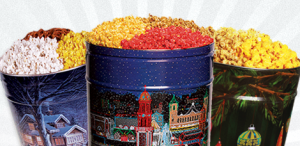 Cozy Up with Comfy Seats
The real advantage of an at-home theater is that you can put your feet on the seats. Lay the seating in rows to recreate the cinema (and make sure that everyone gets a good view.) Grab plush loveseats and snuggle up with your loved ones.
Create a Movie Theater Snack Bar
You can't have a movie theater without snacks! All that's needed is a mini-fridge to store snacks and some space to store candies. And, of course, bags of buttered popcorn.
Complete Your Home Cinema with Movie Theater Popcorn
Whether you're creating a home theater or just want to have a piece of the experience, Topsy's popcorn is right for you.
A bag of our buttered popcorn takes movie magic with you wherever you go. True popcorn lovers can stack their snack bar with a variety of flavors.
Visit our website to order movie theater popcorn for your cinematic experience.