How to Create the Perfect Movie Date Night at Home
April 8, 2022
Is there anything you want to do more after an exhausting week at work than sink into your couch?
Just because movie night is low-key doesn't mean that it's not exciting. With a little bit of set-up, you'll have a Hollywood moment with your person.
One advantage of an-home movie night is that you don't have to deal with uncomfortable theatre seats. Pillow forts are cozy and fun to build. Get your biggest, fuzziest blankets to build your snuggly cave. And, of course, be on the lookout for an unexpected pillow fight.
Plan Your Movie(s) in Advance
You don't want to spend more time picking the movie than watching it. Plan with your special someone in advance.
If you want to make it a double or triple feature, make it a themed movie night. Here are some fun movie night themes to consider: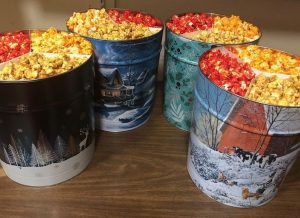 You can't have movies without popcorn. Amp up the experience by going beyond basic butter. We recommend grabbing a multi-flavored tin of Topsy's cinnamon, cheese, and caramel popcorn.
If you've been looking for an excuse to stockpile candy, here it is. Have a pre-date candy shopping run with your sweetheart. Grab Milk Duds, gummy drops, and all your other favorite movie theater candies.
Add Some Post-Movie Games
Just because the credits are rolling on the movie doesn't mean that they should do so on your date. If you want to keep up the cinema theme, we recommend grabbing a movie-themed game like Scene-It. Or you can choose to ditch the movies and keep the coziness with board games.
Settle Down and Grab Some Topsy's Popcorn
Topsy's is the perfect gift for movie night and every other date. Visit our website to order a popcorn gift for your special someone.