The Ultimate Labor Day Snack Guide: Family-Friendly Treats Everyone Will Love
August 30, 2023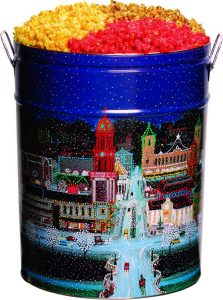 Labor Day is almost upon us. It's not just a long weekend; it's a celebration of the hardworking men and women who make our country great. And what better way to celebrate than by gathering your loved ones for some quality time—and quality snacks? From backyards to balconies, it's the perfect occasion to feast on delicious treats that everyone can enjoy.
Why Topsy's Popcorn is a Labor Day Must-Have
When you think of iconic snacks, popcorn has to be high on that list, right? But we're not talking about any popcorn; we're talking about the deliciousness that is Topsy's Popcorn. With its non-GMO popcorn kernels popped to perfection in coconut oil and a sprinkle of just the right amount of salt, it's the gourmet popcorn experience your Labor Day deserves. Oh, and did we mention the butter? So creamy, so rich—you'll want to savor every bite.
Chips & Dip
You might say, "Chips and dip, again?" But hear us out. Go beyond the usual suspects like salsa and guacamole. How about a homemade spinach and artichoke dip or a spicy buffalo chicken dip? Serve it up with an array of chips, from tortilla to pita, for a crunchy, savory delight.
The Sweet Corner
Fruits are awesome, but fruits dipped in chocolate? Now, that's a game-changer. It's simple yet impressive. All you need is a variety of sliced fruits like strawberries, bananas, and apples, and a hot pot of melted chocolate. Kids and adults alike will be dipping and munching in no time.
Grill & Chill
Labor Day and BBQ are almost synonymous. If you're firing up the grill for some steaks and burgers, why not make some mini sliders as well? They're easy to eat and offer a variety of flavors. Think beef sliders with blue cheese, or chicken sliders with a dollop of guacamole. They're the perfect bite-sized treats that pack a punch.
For the Health Nuts
Let's not forget the health-conscious among us. A veggie platter with hummus is a great addition to your snack table. Slice up some cucumbers, carrots, and bell peppers, and pair them with a flavorful hummus. It's a refreshing and guilt-free option that won't make you feel like you're missing out on the fun.
Make it a Topsy's Labor Day!
Mix in bowls of various Topsy's popcorn flavors like cheese, caramel, and cinnamon amongst your snacks. Its gourmet quality and variety of flavors make it a hit with both the young and the young-at-heart. Plus, it adds that pop of excitement to your Labor Day spread!
Get Popping with Topsy's!
Labor Day is all about relaxation, family, and of course, good food. From Topsy's Popcorn to chocolate fondue, these snacks are sure to keep everyone in high spirits. Make your feast a true celebration of all the hard work you and your family do all year round.
Ready to make this Labor Day the tastiest one yet? Don't forget to include Topsy's Popcorn in your celebration.