Popcorn Gifts
Topsys Popcorn Gift Ideas
For those of you that do not know what Topsy's Popcorn is, you are missing out. Topsy's has delicious popcorn with several different flavors to choose from that make excellent popcorn gifts! You could get cheese, buttered, caramel, cinnamon, or a little bit of each. For the holidays, you may want to give a gift from Topsy's to someone you love. Birthdays are another great special occasion to give the gift of happiness. A few gift ideas you can do would be to personalize their favorite flavor, buy them popcorn bags, or gift them a favorite tin that they love.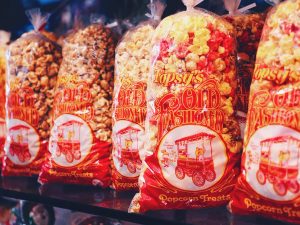 Gourmet popcorn bags are a great choice for a gift, and they normally come in popcorn baskets for you to hand out. By purchasing popcorn bags, it's easy for you to personalize them yourself. You could put it in a gift bag or could tie a ribbon around it to make it a little more festive.
If you're giving popcorn to multiple people, you could purchase large popcorn bags for each flavor and purchase small bags to gift the popcorn. This way you can gift them to everyone you know for the holidays! Giving them a little taste of the popcorn will be a nice treat. The popcorn bags can also be used for refilling. Another option would be to get someone a festive popcorn tin of their favorite flavor and some smaller popcorn bags so they can refill the tin after eating the first round of popcorn.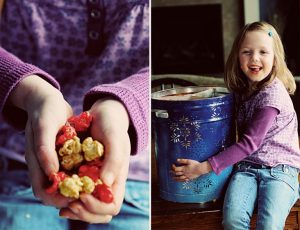 Topsy's also sells popcorn in a variety of decorated, festive tins. You could choose their favorite sports team or their favorite holiday. Following your selection, you can then place your order of tin with their favorite flavor or mix of flavors. Popcorn tins make the perfect gift because your loved one gets plenty of popcorn instead of a small bag. In addition, they come in different sizes.
Be sure not to order the popcorn too far in advance but don't wait too long either. When you order online, give the package enough time to arrive at your house. If you ship it to your house, you can personalize the popcorn before sending it to your loved one. When thinking about the holidays or birthdays, choose Topsy's for the best popcorn gifts!