Popcorn Facts
The Best Popcorn Facts
Topsy's Popcorn has the best gourmet popcorn you'll find anywhere, developed over 60 years as a Kansas city area tradition. Yet the delicious tradition of popping corn goes much further back!
Here are some incredible facts about popcorn that will blow your mind and increase your appetite:
1. People have been eating popcorn for thousands of years. Fossil evidence from Peru suggests that folks in the Americas have been heating corn kernels to pop since at least 4700 BC!
2. The majority of popcorn is produced in the US – this makes sense, as the average American eats about 42 quarts per year.
3. Over 70% of popcorn is consumed at home, not the movie theater! It's no wonder, as the best gourmet popcorn is only going to be available at the popcorn store.
4. The link between popcorn and movie theaters was hardened during World War II: Sugar shortages and rationing harmed competing movie foods such as sweets and soda since traditional sugar suppliers like the Philippines were cut off from the United States.
5. Popcorn sales declined rapidly after the introduction of television in the 1950s. However, a short 30 years later, microwaved popcorn was developed, and consumption skyrocketed once more. By 1995, 65% of all purchases were microwave popcorn.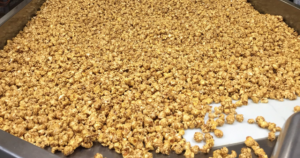 6. There's a science behind the best popcorn! Several factors must come together for corn kernels to have perfect popability. The kernel's moisture level, The expansion ratio, and the yield of the batch. Everything from processing techniques to storage and preparation affects the popcorn quality.
7. The first automatic popcorn machine was presented at the World's Fair in Chicago in 1893. Today, you can find a contemporary version in movie theaters all over the world.
8. Popcorn kernels can fly up to one meter in the air when they pop!
9. Nebraska produces an estimated 250 million pounds of popcorn per year—more than any other state. This is equivalent to a quarter of all the popcorn the United States produces every year.
10. The world's largest popcorn ball was 12 feet across and weighed 5,000 pounds. It required 2,000 pounds of corn, 4,900 pounds of sugar, and 280 gallons of syrup!
BONUS! The best popcorn fact is that the best flavored popcorn is waiting for you at Topsy's Popcorn. When you need a little magic in your life or a special gift, come to Topsy's Popcorn – it's the best popcorn around.
And now, sharing the magic of Topsy's has never been easier. Topsy's holiday popcorn is now available for purchase online! Our online shop delivers our magic all around the world!
Give someone special a gift that is sure to delight them! Topsy's Holiday Popcorn makes an excellent stocking or hostess gift that will get people talking about how great it tastes all year round.
Don't wait to purchase your gourmet popcorn flavor today!