Holiday Popcorn
Make your holiday season the best with delicious holiday popcorn!
Topsys offers a delicious selection of popcorn flavors for the holidays. Holiday popcorn flavors such as butter, cinnamon, caramel, and cheese popcorn are available to satisfy the taste buds of popcorn lovers everywhere.
No matter the holiday or time of year, you can never go wrong with gourmet popcorn to snack on for personal recreation, family get-togethers or for gift giving.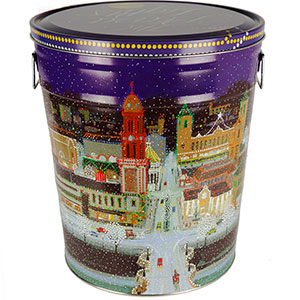 Specializing in gourmet popcorn, Topsys also offers holiday popcorn tins in multiple sizes that are perfect for Christmas gift-giving. Sizes range from 1 gallon tins to 3.5 gallon tins and you can also purchase 1 gallon tubs! Don't forget to refill when you run out!
Christmas isn't the only occasion for canisters, there are also custom popcorn tins available for other holidays or special events throughout the year from graduation events, Father's Day, sporting events and more.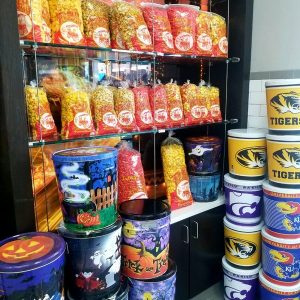 Although one can never have too much popcorn, if you prefer a popcorn gift other than a tin, popcorn bags are also available for the individual flavors of caramel popcorn, cinnamon popcorn, cheese or buttered popcorn. For those who love variety, you can get a mix with all flavors in one bag!
Topsys prides itself on making the best tasting popcorn and dedicates itself to giving customers the best quality popcorn every time. Whether you're looking for a quick snack or a full bucket, Topsys has what you need.
So, no matter the occasion or time of year, Topsys provides the best holiday popcorn for all your favorite occasions. Guaranteed to satisfy snack cravings while you celebrate with family and friends, you can never go wrong with Topsys Popcorn!
Purchase holiday popcorn at Topsys today!