A Flavor Odyssey at Topsy's Popcorn: Unveiling the Popcorn Experience You've Been Waiting For
September 12, 2023
Unveiling the Popcorn Experience You've Been Waiting For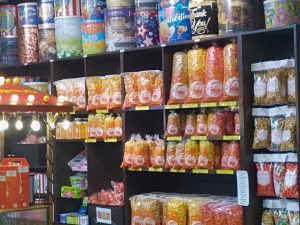 Imagine walking into a room filled with the heavenly aromas of butter, cheddar, caramel, and cinnamon popcorn. Your mouth starts to water, your senses go into overdrive, and your heart sings a little.
But you're wondering where you to go to purchase that kind of popcorn.
Welcome to Topsy's Popcorn, where we've mastered the fine art of popcorn flavors to give you an unforgettable snacking experience. You're probably used to regular microwave popcorn from Walmart or Amazon, but at Topsy's, we believe that our popcorn flavors are better than the rest.
Let's discuss our popcorn flavors.
Butter Bliss
If you're a traditionalist at heart, our butter popcorn will suit you. It's a glorious, salty, melt-in-your-mouth explosion that transports you straight to popcorn nirvana.
Cheddar Extravaganza
Our cheddar popcorn is generously coated with real cheddar cheese, offering a sharp, tangy delight that is downright addictive.
Caramel Adventure
For those with a sweet tooth, our caramel popcorn is the ultimate indulgence. Imagine the perfect blend of buttery, sugary goodness hugging each kernel—creating a symphony of flavors that dance on your palate.
Cinnamon Wonderland
Perhaps you'd like to step into our cinnamon wonderland where the sweet spice enrobes each popcorn kernel, teasing your senses with its warm, aromatic essence.
Now Introducing: Pretzels!
But wait, there's more! We are thrilled to announce that we're now offering pretzels in our line-up. These crispy, salty gems are perfect companions to our popcorn flavors. Mix and match to create your ultimate snack pack!
We also offer a snack for any occasion. Whether you're solo-snacking or bringing joy to a party, Topsy's Popcorn has got you covered. Our popcorn comes in various sizes to suit your needs—from petite bags that fit perfectly in your hand, to grand tins that promise never-ending munching joy.
Topsy's Popcorn Awaits
You've read about it, now it's time to taste the magic for yourself. If you're in Kansas City or plan to be nearby, be sure to stop in and pick up a popcorn tin for you and your family to share.
More of a homebody? No problem. You can give us a call at 816-523-5555 or order your custom popcorn tin online.
Come on down to Topsy's Popcorn, where your perfect snack is just a kernel away. Unleash your inner snack enthusiast—Topsy's Popcorn is waiting for you!
More On: