Best Popcorn Toppings for Different Flavors
January 26, 2022
Looking for the best popcorn toppings to make it burst with even more flavor?
At Topsy's, we show our creativity with a variety of popcorn flavors. We want our fans to let out their inner chef by experimenting with different popcorn toppings.
Best Popcorn Toppings for Caramel Popcorn
            Maple Syrup and Bacon: Love the smell of bacon filling your kitchen? Chop sizzling bacon pieces and mix them into our caramel popcorn. Drizzle maple syrup on top for Sunday morning at any time.
            Pretzels and Chocolate Sauce: Chocolate and caramel pair perfectly. Mix in crushed pretzel pieces for the ultimate blend of salty and sweet. If you want even more salt, add pecan pieces.
            Caramel Covered Apple: A twist on a fall classic. Chop caramel apples and mix them into Topsy's caramel popcorn. Turn this into a fall experience by buying the caramel apples while apple picking.
Best Popcorn Toppings for Cheese Popcorn
Wing Sauce: Cheese and wings is a greasy classic. Mix in spicy wing sauce with cheese popcorn to feel the heat. You could also do a Kansas City-inspired take by mixing in BBQ wing sauce.
            Jalapeno Popper: Jalapeno popper flavors can be applied to everything. Mix cream cheese, shredded cheese, and diced jalapeno to cheese popcorn. Roll into balls and place them in the fridge to have them settle.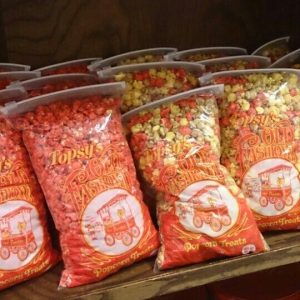 Cilantro and Lime: These simple but effective toppings are a proven method to elevate tacos. They also pack a punch with cheese popcorn. If you're not a cilantro fan, sub it for chili.
Best Popcorn Toppings for Cinnamon Popcorn
S'mores: You don't need a campfire to enjoy s'mores. Mix chocolate sauce, marshmallows, and crushed graham crackers into popcorn. Cinnamon popcorn adds the perfect spiciness to this classic common.
            Brown Sugar: Sometimes the best things in life are simple. Mix in brown sugar to our cinnamon popcorn for a sweet and spicy combo perfect for fall.
            Coconut Flakes and Chocolate: Want to amp up the crunch factor of Topsy's popcorn? Add coconut flakes as a unique flavor booster. Top it with melted chocolate and you've practically got yourself a candy bar.
Get Flavorful Popcorn Tins
The first step in creating an outstanding snack is to get popcorn tins already packed with flavor.
Topsy's popcorn tins are a tradition Kansas Citians have loved for years. Our cheese, cinnamon, and caramel flavored popcorn is a hit at parties and at home. They're perfect to try this and other unique popcorn flavors.
Visit our website to test out the best popcorn flavors.