3 Places to Visit for Sweet Treats in Kansas City
November 3, 2022
Easy Date Night Ideas
Going on a date keeps the fire in your relationship burning strong and bright. But planning the perfect date is no cakewalk. You can quickly cycle through your favorite spots and run out of options. Save yourself the mental anguish and add sweet treats in Kansas City to your list.
Adding sweet treats to your growing list of unique date night ideas in Kansas City means you'll never dread the thought of planning a date. Having loads of creative date ideas in Kansas City improve the experience and makes every date count.
Here are 3 sweet places to visit in Kansas City to add a magical element to your dating life.
Stopping by the Rocky Mountain Chocolate Factory transports you to a magical world where chocolate reigns supreme. With more than 300 delectable, chocolate-covered treats to choose from, you'll undoubtedly feel like a kid at the candy shop. Discover a fantastic range of tasty, mouthwatering confections and yummy chocolates that will blow away the most fervent chocoholic.
The caramel apples are a house specialty and will leave your tastebuds tingling. Other chocolaty goodies include truffles, jelly sticks, cookies, and more. Prefer sugar-free treats? No problem. Have your pick from sugar-free goodies such as caramels, english toffees, pretzels, and more.
Having trouble picking a treat? No worries. Count on the professional staff to help you out. They understand your struggle and will walk you through the selection to ensure you get the best sweet treats in Kansas City for you and your date. Linger a while to watch the masters at work, and they'll reward you with a free sample of melt-in-your-mouth chocolate goodness.
A visit to Betty Rae's Ice Cream confirms why the candy shop is consistently voted the Best Ice Cream in Kansas City. They have the best ice cream you or your date has ever tasted. And tons of flavors to satisfy the craving of even the most ardent ice cream lover. You can opt for the classics such as cookie dough, cookies and cream, chocolate, and cinnamon. Or try the more adventurous flavors such as Thou Mayest Coffee and goat cheese with apricots & candied walnuts.
Besides the diverse collection of magical treats, Betty Rae's Ice Cream wins for thoughtfulness and excellent service. They also offer a range of dairy-free options, including mixed berry sorbet, golden milk, and vegan vanilla.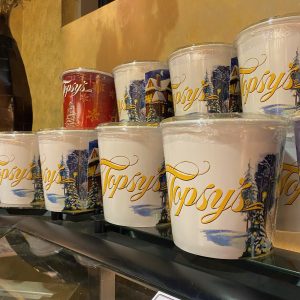 Few things compare to sharing a tub of hot, crunchy popcorn with your date. But Topsy doesn't serve simple, salty popcorn. You're in for a treat with delicious, gourmet popcorn that will wow and floor your date. Have your pick from finger-licking good savory flavors such as tangy cheese, rich caramel, spicy cinnamon, or buttered popcorn. You will savor every magical bite of the decadent caramel with pecans or peanuts. Topsy's legendary freshly squeezed limeades pair perfectly with your gourmet popcorn. Don't forget to take some magical treats home to keep the party going.
To order a tin of Topsy's Popcorn visit us online or give us a call at (816) 523-5555.