The Five Best Picnic Spots in Kansas City
March 3, 2022
It's sunny skies in The Red Kingdom. Grab your baskets and popcorn tins, it's time to soak in sun rays. Take advantage of the warm weather by enjoying the best picnic spots in Kansas City.
Loose Park
Planning on bringing a bottle of wine and a special someone to your picnic? You'll fall in love with Loose Park's rose garden and winding bridges. You'll 'accidentally' be holding hands by the end of the night.
River Market
Not wanting to pack your own food? No worries! River Market is full of delicious treats that you can take on the go. Grab tacos at KC Taco or falafel sandwiches at Hibachi House and sit on one River Market's open-air tables. If you go on the weekend you have the opportunity to buy some treats at City Market.
Nelson Atkins Lawn
The artworks aren't the only masterpieces that the Nelson Atkins Museum has to offer. The massive lawn has room to picnic and a view of the grand building to enjoy. Bring popcorn tins and watch the sunset over Brush Creek.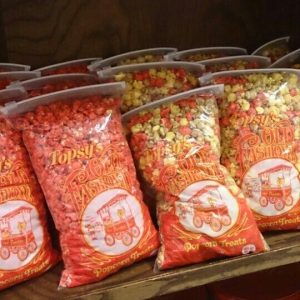 Arrowhead Stadium
Kansas City has the most dedicated fans out there. Turn your picnic into a tailgate at the Arrowhead parking lot. Fill up on hot dogs and Boulevard before cheering on the Chiefs or the Royals.
WWI Museum
The WWI Museum is a must-see spot in Kansas City. It's a solemn reminder of our past and the lessons that it brings to our present. Its lawn offers some of the best views of the city where you can reflect upon your experience.
Bring Popcorn Tins to Your Picnic
What's the secret ingredient that makes any picnic uniquely KC? A little bit of Topsy's popcorn.
Topsy's popcorn is a timeless city tradition. Our cheese, cinnamon, and caramel popcorn flavors are meant to be shared. So next time you're soaking the sun with your loved ones, don't forget to bring a Topsy's popcorn tin.
Visit our website to order.