How To Keep Your New Year's Resolution
January 4, 2023
As we welcome a brand-new year, a typical activity different cultures participate in is setting a new year's resolution. The new year represents a significant temporal turning point in the calendar when people set new objectives for the year ahead.
2023 has arrived. At Topsy's, we want to help you to stick to your new year's resolution plans! This year, it's time to take action to make your future bigger and brighter!
If you haven't already set your goals, let's discuss how you can get started.
Setting Your New Year's Resolution
Before you whip out a paper and pen to jot down your new year's resolutions, you should consider reflecting on a few questions. These questions can help you effortlessly formulate your resolution.
New Year's resolutions tend to fall under behavioral goals, where someone commits to doing something different with their life. Finding goals that make you feel empowered and inspired is key.
Now that you understand the background to set your resolution, continue reading to begin planning.
Ask yourself the following questions:
What matters most to you in life?
How can you improve your life?
What are the small steps you can take starting this month?
The next step is setting your goals according to these answers and to the lifestyle, you wish to live. Be sincere to yourself and think about the resources and time you have available to assist you in achieving your goals.
Make sure you also determine when, where, and why for your vision so you can develop an action strategy and set yourself on the ideal path to achieve your goal.
Sticking To Your New Year's Resolution
No matter what goal you choose, it's important to head down a path that will produce the results you envision. Here are a few tips to help you stick to your new year's resolutions:
Make your goals measurable: This can be done by setting a routine or keeping track of your daily activities to include your resolution.
Keep your goals simple and specific: It's a great idea to be detailed when creating your goals so that you don't have to overthink it once it's on paper. All you need to do is focus on your plan.
Maintain a positive attitude: A positive attitude will help you in any situation. In particular, it will help you along the path of reaching your goals when times get challenging.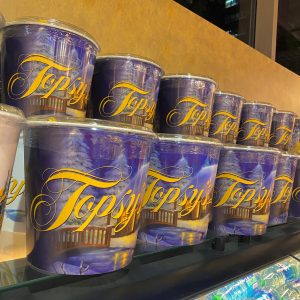 Bottom Line
Creating a new goal requires you to be detailed and focused on taking a step towards that goal every day. Let's make this year a year that is full of magic.
At Topsy's popcorn, we offer various flavors of popcorn that you munch on as you write down your resolution. Our gourmet popcorn is available in a variety of savory flavors, including buttered popcorn, rich caramel, spicy cinnamon, tangy cheese, and our decadent caramel with pecans or peanuts.
If you are in the Kansas City area, you can stop by one of our retail locations. You can also order your tin by visiting us online or giving us a call at (816) 523-5555.