What To Do at Home When It's Snowing
December 7, 2022
What To Do When You're Snowed In
Finding fun things to do inside while it's snowing doesn't have to be that complicated. You don't have to spend your entire day stuck inside binge-watching a Netflix show that you won't remember the premise of either.
Instead, opt for doing activities that require a bit more brain power and a lot more social interaction between you and someone you love. The National Library of Medicine reported that adults who are more socially connected are healthier and live longer than their more isolated peers.
Looking out at a snow-filled landscape could cause you to feel discouraged about having any fun for the day. For this reason, it's important to get active even if you're indoors.
This article will discuss a few activities you can do inside your cozy home. Don't be shy to throw in some tasty treats either!
Even if the snow is falling fast that doesn't mean you have to stay stuck inside bored.
Fun Things to Do in The Snow with Adult Friends
Play Bingo
Bingo is a popular game that can be played on 5 x 5 matrix cards or electronically by downloading one of the available apps through your device store. These cards contain a set of 24 random numbers and one centralized specially marked square.
The object of the game is to complete a Bingo pattern marked either vertically, horizontally, or diagonally.
Play Words with Friends
This is a great game to play if you want to sharpen your mind and expand your vocabulary. Whether you are snowed in with a companion or you opt to play online with other passionate word smiths, this is the game for you.
To play Words with Friends, you'll select which board you want to play. Next, you will successfully spell words that are on the board.
Just like Bingo, Words with Friends can be downloaded from your device's app store.
Play Heads Up
Heads up is a game that was created by Ellen DeGeneres that can be played using a smartphone, tablet, or iPad. The game became popular originally from appearing on her show where Ellen and her guests would play.
The objective of the game is that the person holding the card or phone to their forehead will have to guess what is on their card or phone based on hints from the other players. What makes this game so fun is that you never know which card you'll get.
You may sing a song, talk in a silly accent, or simply guess a word! Heads up encourages players to use as many clues as possible before the timer runs out!
Savor The Moment with Topsy's Popcorn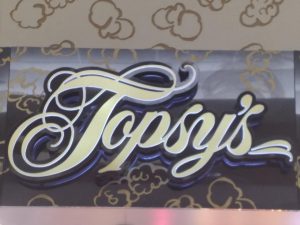 For years, Topsy's Popcorn has sold fresh gourmet popcorn in flavors including cinnamon, cheddar, caramel, and buttered. Our popcorn can be purchased in decorative tins that are perfect to seal in freshness.
Topsy's Popcorn is infamous for selling out of our Christmas popcorn tins that are currently available for purchase online and delivery straight to your door! You don't have to step foot outside in the snowy weather.