Can I Eat Popcorn at Night?
May 20, 2022
Popcorn is a delicious, low-calorie snack enjoyable at any time of day. It has been around for centuries and is still a favorite in homes and movie theaters today.
In recent years, popcorn has gained popularity as a snack and as a topping on other foods, such as salads and pizzas. It's found in many flavors, including buttery, kettle corn, cheese, and caramel corn.
In this article, we will examine the many reasons why popcorn makes a great late-night snack.
Why Popcorn Is a Good Late-night Snack
Popcorn makes for a great late-night snack. It's versatile, pairs well with almost any drink or meal, and most people enjoy their popcorn tub. So, if you're wondering whether you can eat popcorn at night, the answer is yes.
Here are six reasons why you should add popcorn to your nighttime routine:
A good source of fiber:
A serving of popcorn contains a high amount of fiber. Fiber makes you feel full longer with fewer calories.
Popcorn is high in vitamin B:
Vitamin B helps converts food to energy. It also prevents anemia and maintains normal red blood cell formation.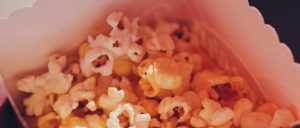 Popcorn contains antioxidants:
Antioxidants such as selenium and zinc help protect the body from cancerous growths
.
Serotonin production:
Popcorn contains tryptophan, which increases the body's serotonin production. Eating popcorn before bedtime can help you fall asleep faster and may also help you wake up in a better mood.
Helps with metabolism:
The mineral manganese is present in popcorn. This nutrient helps your body metabolize glucose, which is essential for producing energy. Manganese also helps the body with calcium absorption and bone development.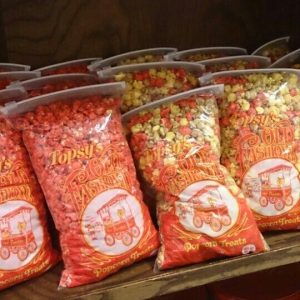 Easy to digest:
Popcorn is a digestible and bloat-free food. This makes it a great snack for those who suffer from indigestion or heartburn.
Popcorn is a go-to meal for when you're hungry but don't want to spend too much time cooking or cleaning up after yourself.
Why Topsy's Popcorn Is a Good Night Snack
If you are looking for a late-night snack, Topsy's is the perfect popcorn to meet your craving. It is high in fiber and healthy fats, making it both filling and satisfying. It's a delicious and nutritious snack, especially after a long workday.
The best part? You can order this snack in a snap with Topsy's online store.
So, the next time you get the urge to munch on something delicious late at night, be sure to try a bag of Topsy's popcorn.