What's Healthier: Popcorn or Chips?
April 22, 2022
Want to satisfy your salt cravings? Here's why you should trade chips for popcorn.
Stay Fuller for Longer
Popcorn is full of fiber. Fiber-rich foods are filling, meaning that you can be full from eating a small amount. This amazing nutrient also lowers risks for high cholesterol and digestive issues. Studies have also proven that eating lots of fiber decreases the likelihood of cardiovascular diseases.
Less Fat
A bag of potato chips might be small, but they pack a punch. The average serving of chips has 10.2 grams of fat. Air-popped popcorn, meanwhile, only has 7.9. Popcorn also has fewer calories. So if you want to ward off the temptations of the vending machine, bring a bag of popcorn.
Lowers Risk of Disease
Popcorn has been a go-to snack of dieters for a reason. The fiber in popcorn means that lowers the risk for:
Hypertension
Diabetes
Cardiovascular Disease
Popcorn is also an antioxidant thanks to the phenolic acids it contains.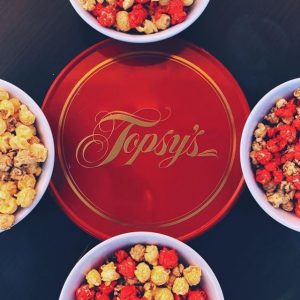 Nutrients in Popcorn
Think that fiber is the only trick popcorn can play? Think again! Popcorn also contains:
Vitamins A, E and K
Folate
Pantothenic acid
Riboflavin
Thiamin
Chips meanwhile? Their vitamins are hidden under ingredients that are damaging to your health.
Trade the Chips for Topsy's Popcorn
If you want something to munch on instead of chips, you can't go wrong with a tin of Topsy's popcorn. You'll be sure to get your daily fiber in with our variety of flavors.
Visit our website to order our popcorn.