How to Create the Sweetest Popcorn Gift Basket
March 31, 2022
Want to thank your favorite teacher for supporting you? Perhaps you're looking for the perfect way to celebrate a friend's new job. Or do you just want to remind that special someone how much you love them?
The answer to all these dilemmas? A beautiful popcorn gift basket. Here are some tips to just you started.
Popcorn Gift Basket Making Tips
You never know what flavor your gift receiver is craving. Extend (and the flavor) the gift by including a variety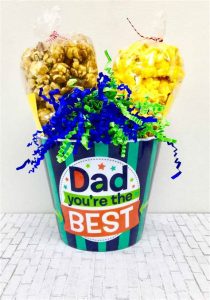 of popcorn.
Seasonings can make popcorn hit every craving. Some seasonings to add to your basket are:
White Cheddar
Ranch
Chocolate Flakes
Sour Cream and Onion
Brown Sugar
Themes make popcorn baskets even more fun. Here are some crowd-pleasing gift basket theme ideas:
Sweetheart Popcorn Basket: Treat your honey on Valentine's Day (and every other day) with a cute popcorn gift basket. Inspire a date in a park with a classic picnic basket. Throw in a stuffed animal and their favorite goodies and you're guaranteed to make their day.
Movie Night Popcorn Basket: A movie is the only thing that pairs with popcorn as well as butter. Inspire a cozy night in with movie theatre candies and some snuggly socks. Make this gift pop by putting it in a classic red and white popcorn box.
Holiday Popcorn Basket: When the weather gets colder, everyone wants to stay inside and celebrate with friends and family. Add some holiday cheer with a holiday basket. Add extra snuggle factor with hot cocoa mix and little gifts that will make them feel appreciated.
Build Your Popcorn Gift Basket with Topsy's
Looking for a variety of fun popcorn flavors with timeless taste? You've come to the right place.
Topsy's popcorn will satisfy every tastebud. Visit our website to order today.