About Topsys Popcorn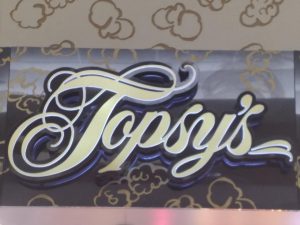 Popcorn in Kansas City
Topsys Popcorn – It's the Good Stuff!
When it comes to satisfying cravings for delicious, crunchy popcorn in Kansas City, one name stands out: Topsy's Popcorn. Established in the heart of the city, Topsy's Popcorn has been delighting locals and visitors alike for years with its mouthwatering popcorn creations.
From our spicy sweet cinnamon popcorn to our flavorful buttered popcorn, we have everyone's taste buds covered. When you visit us online, you'll have the option to purchase our popcorn in various sizes of decorative tins.
Let's dive into the story behind this iconic popcorn and discover what makes us so special.
A Rich History
Once upon a time on the lively streets of the Country Club Plaza, there stood a little popcorn shop called Patsy's. It was the pioneer, the trailblazer, the original! Born in the early days, it witnessed the Plaza's growth and transformation into a bustling hub of activity. But then, in a twist of fate, destiny intervened and Mr. Jerry Berger stepped into the picture in 1948, forever altering the popcorn landscape.
With a sprinkle of entrepreneurial magic, Mr. Berger waved his wand and transformed Patsy's into Topsy's. The name change marked the beginning of an extraordinary journey, and on July 1, 1950, Topsy's was officially trademarked. The air was filled with anticipation as Topsy's, the new star in town, embarked on its quest for popcorn domination.
Like a burst of flavor, Topsy's expanded its reach in 1967, popping up in more locations across Kansas City. The excitement grew, and in 1968, Topsy's went public, taking the world by storm.
Craftsmanship and Quality
Our unwavering commitment to quality sets Topsy's Popcorn apart from the rest. Each batch of popcorn is carefully handcrafted using only the finest ingredients sourced locally. From the premium kernels to the secret blend of seasonings, Topsy's Popcorn spares no expense in creating the perfect combination of taste and texture.
Whether you prefer classic buttery popcorn, savory flavors like cheddar or caramel, or adventurous combinations, Topsy's Popcorn offers a wide range of options to satisfy every palate.
Community Connection
Topsy's Popcorn isn't just a popcorn shop; it's a beloved institution in Kansas City. Our local community has embraced Topsy's as a symbol of pride and nostalgia. From the moment you step foot in one of our charming stores, you'll be greeted with warm smiles and friendly service.
The aroma of freshly popped corn fills the air, creating an inviting and comforting atmosphere. Whether you're attending a local sporting event, catching a movie, or simply strolling through town, Topsy's Popcorn is a must-stop destination for locals and visitors alike.
Bottom Line
Topsy's Popcorn has earned its reputation as a Kansas City treasure. Our commitment to quality ingredients and strong community ties has made us an iconic popcorn destination.
The next time you find yourself in Kansas City, be sure to stop by Topsy's Popcorn and experience the delicious taste of tradition that has delighted generations.
More about Topsys Popcorn