Holiday Shopping
November 8, 2023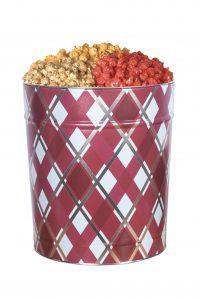 The holiday season is full of twinkling lights, cozy gatherings, and the inevitable shopping frenzy. It's that time of the year when the spirit of Thanksgiving rolls right into the rush of Christmas shopping.
Gone are the days when November was solely about turkey and gratitude; it's now the starting block for discount dashes and e-commerce escapades. But fear not, dear reader!
With a sprinkle of planning and a dash of insight, you can master the art of holiday shopping—and even enjoy it with the perfect snack in hand. Let's unwrap this topic together and find out how Topsy's Popcorn can be a delightful companion to your festive spree.
Holiday Shopping In-Store and Online
Remember when holiday shopping meant braving the cold, standing in endless lines, and juggling a dozen shopping bags? Technology has transformed our approach to holiday spending. Online shopping has boomed, allowing us to click our way through gift lists. But it's not all sugar plums and candy canes; this convenience comes with its own set of challenges. Delivery delays, the occasional package pirate, and the dreaded 'out of stock' notification can test the patience of even the jolliest shopper.
To avoid the hassles of last-minute hiccups, try shopping now. Websites often experience high traffic the closer it gets to the big Christmas day, which can lead to slower load times or crashes. An early start gives you the best selection and avoids the rush.
Digital Deals and the Thanksgiving Table
The surge of Black Friday and Cyber Monday deals has nudged Thanksgiving into the shopping spotlight. While we're passing the gravy, we're also passing around phones and tablets to snag the hottest deals. Yet, this can sometimes shift our focus from what the holidays are truly about—connection, reflection, and celebration.
During this time, allocate specific times for deal-hunting to ensure that the essence of Thanksgiving isn't lost. This way, you can enjoy the savings and the sentiment.
To blend the convenience of online shopping with the immediacy of in-store purchases, retailers are offering innovative solutions like curbside pickups and quick in-store collection services. This hybrid shopping approach allows for a more controlled and efficient shopping experience.
Topsy's Popcorn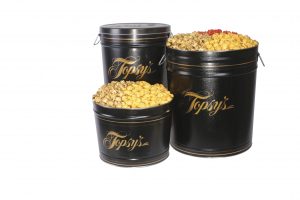 Now, let's talk snacks. Shopping can be exhausting, and whether you're clicking through pages or pounding the pavement, you'll need a pick-me-up. Enter Topsy's Popcorn—a snack as timeless as the traditions it accompanies. It's the perfect companion for both your in-store jaunts and online marathons.
Easy to carry, delicious to eat, and with a variety that ensures there's a flavor for every taste bud in the family, Topsy's Popcorn is the festive fuel you didn't know you needed.
Keep a bag of Topsy's within arm's reach for when the shopping spree hunger strikes. It's a great way to keep spirits high and tummies happy, whether you're at home or on the go.
Ready to make your holiday shopping as merry and bright as the season itself? Check us out to stock up on Topsy's Popcorn and sprinkle some extra joy into your festive activities.
Happy shopping and happy snacking!