Christmas Popcorn
Why It's a Great Gift
If you asked a group of people what they consider the most iconic Christmas treat, they'd probably list candy canes, gingerbread men, or even fudge. Check with them again around mid-January,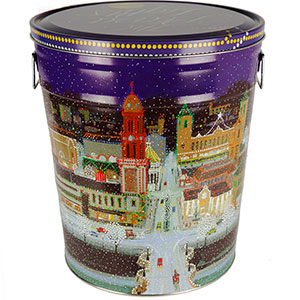 but this time ask them what snacks they're tired of and you'll get the same answers. That's why Christmas popcorn tins are the perfect gift!
A popcorn gift is almost always welcome. If you're debating whether that's true or not, here are six reasons you should give the gift of flavor this holiday season.
Popcorn Has a Long Christmas History
Since at least 1842, Americans have used popcorn as a Christmas decoration. It's cheap and tends to last a while on a tree, unless the birds or peckish Christmas carolers get a sudden craving. For over a century, strings of popcorn garland and giant popcorn balls have adorned trees alongside ornaments and lights.
It's Versatile
Maybe you pride yourself on being a thoughtful gift giver. That may be true, but there's always someone you don't know how to shop for. Unless they're a pre-ghost-of-Christmas-future Ebeneezer Scrooge, they'll be delighted by popcorn.
You can get caramel corn, cheese popcorn, cinnamon popcorn, or stick to the always-pleasing buttered popcorn. Still not sure? Get a tub of it all! Though inexpensive, popcorn packs a lot of variety.
It's Festive
Christmas popcorn tins come in a range of delightful colors. Maybe you want a festive "Merry Christmas!" message emblazoned on the front, or a quaint picture of the countryside on a snowy morning. Either way, that holiday tin or gift basket can be put to creative use once it's empty.
Christmas Popcorn Tins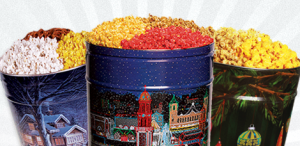 The joy doesn't stop with the packaging, though. Flavored popcorn itself comes in pleasing shades of deep caramel, vibrant yellow, and cinnamon red. You almost feel bad about eating it all. Almost.
It Lasts
Baked goods are always nice, but their shelf lives aren't always great. Imagine sneaking to the kitchen for a late-night cookie on New Year's only to find your treats with an extra ingredient: mold. Flavored popcorn sealed in a tin or wrapped in a basket lasts much longer than grannie's brownies (not that we don't love them!).
It's Easy To Deliver
For far-off family and friends, sometimes a card isn't quite enough. A popcorn gift basket or tin can be safely delivered to their door. Popcorn has a reputation as a great snack, but it's resilient, too. Packed to the brim, there's little chance it'll crumble like other treats.
Give a Popcorn Gift Tin from Topsy's
Whether you live close to Topsy's Kansas City, Missouri, popcorn store, or order online, give the gift of great popcorn on Christmas. Our popcorn can be tracked online, so you know that your loved ones will actually get it. Sweet and savory and full of holiday cheer, shop for some of the good stuff from Topsy's today.
Order Christmas popcorn from Topsys today!