How To Make Homemade Halloween Popcorn
October 6, 2022
It's now Halloween season! Fall has begun to show its true colors and the date on our calendars tell us it's time to break out the spooky decorations!
If you have little ones at home or just need some ideas for Halloween crafts, we've created a list of easy and cute DIY treats. These treats are all made complete with the use of Topsy's Popcorn.
Topsy's Popcorn has been serving Kansas City for the last 60 years and is always a holiday favorite. This year, purchase a variety tin to include festive flavors like cinnamon or caramel from Topsy's by going online or giving us a call at (816) 523-5555.
Let's sink our teeth into these easy to make sweet treats!
Easy Popcorn Treats
Popcorn Hands
The name says it all. These fun hands are easy to make starting with the plastic gloves.
Plastic gloves can be purchased either online or by going into your local beauty or design store. With those in tow the next thing you'll want to add is either some ribbon to tie off the end or a twisty tie.
The last step will be to add in your choice of Topsy's Popcorn. For the Halloween season we recommend using Topsy's Cinnamon Popcorn or Topsy's Buttered Popcorn.
Pumpkin Popcorn
This treat can be used as decorations to set on a table or to put inside of party bags. To start you want to purchase pumpkin bags that fit the occasion.
Next, using Topsy's Popcorn, add in a mixture of flavors or just one! It's truly up to you. Finish these bags off with colorful ribbon or twisty ties.
Pumpkin popcorn bags keep the holiday festive! They are also perfect to keep germs under control.
Popcorn Balls
Popcorn balls are a great addition to any holiday party. Popcorn balls need just one thing- a napkin to keep the delicious Topsy's Popcorn from falling off with each bite!
To make these you will first need to purchase a variety tin of Topsy's popcorn. Our variety tins can be mixed and matched with any of our flavors.
In a saucepan, mix together 1 cup of sugar, 1 cup of light corn syrup, ¼ cup of water and ¼ teaspoon of salt. Heat this until it's blended well. Remove your pan from the heat and add in 3 tablespoons of butter and 1 teaspoon of vanilla extract.
After this mixture has cooled down a bit, pour it over your Topsy's popcorn and mix these together. Wash your hands in cold water to prevent sticking and begin to quickly form 3-inch balls.
Now that you're done, you have the option to either package them in plastic bags of your choice or to set them on a decorative platter for easy access.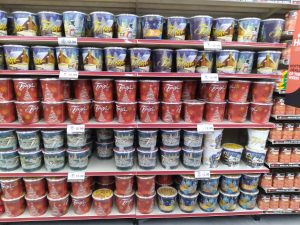 Each of these recipes require ingredients you most likely already have at home.
The most you'll need to do is pick up a cannister of Topsy's Popcorn either by going online or by giving us a call at (816) 523-5555.
Topsy's Popcorn has been a family favorite for years, order your variety tin today to find out why!