The Perfect Modern Themed Charcuterie Board
September 29, 2022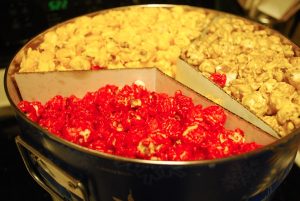 The fall season is here and it's a wonderful time to be outside. Fall weather calls for picnics in the grass and drive-in movie theaters.
Fall picnics only need a few things, a blanket, drinks, and a plethora of finger foods. The same applies to drive-in movie theaters.
With just a few items, you're ready for a simple date night, date day or just a day out! A modern charcuterie board allows you to use your favorite sweets, treats, meats, and cheeses.
Feel free to also throw Topsy's Popcorn in for a slap of flavor. Topsy's Popcorn tins are available by visiting our website or giving us a call at (816) 523-5555.
How To Make a Charcuterie Board?
First things first, you will need a wooden or bamboo charcuterie board. These can be ordered online or purchased at your local design store.
Are you considering a wine pairing? It's also recommended to have wine on hand that compliments the flavors on the charcuterie board.
Some wine suggestions include grenache rose, pinot noir or chardonnay. If you are seeking a sweeter blend, try Cupcake Moscato or Risata Moscato.
Let's discuss what ingredients you'd need for a charcuterie board.
The Main Ingredients of a Charcuterie Board
There are three traditional types of charcuterie boards. Each one has its own variation of items.
They are:
French- French charcuterie boards are a mixture of French dry cured meats and salami.
Italian- Italian charcuterie boards are a mixture of dry cured meat, cheese, preserved vegetables and grapes.
Modern- Modern charcuterie boards are open to all variations that you can think of. Cured meat and cheese are often still present.
In this article, we have spoken about creating the perfect modern themed charcuterie board. Here are some ingredients to consider:
Topsy's Popcorn- Topsy's Popcorn offers a variety of flavors that can be ordered online, over the phone or by visiting one of our Kansas City locations. The flavors available are buttered, cheese, caramel, and cinnamon.
Fruit- Fruits make for an excellent addition to a charcuterie board. Strawberries, grapes, apples, and nuts are all welcome to the charcuterie party.
Meats- There are plenty of meats to choose from for your charcuterie board a few to consider that are tasty are prosciutto, rillettes, or genoa salami.
Cheese- Cheese is so decadent and valuable to a charcuterie board. Chunks of parmesan, aged gouda or even marbled blue jack are all great options to add.
Containers- Dress up your charcuterie board by adding in fun containers like a plastic popcorn bucket, glass bowls for the fruits and nice knives for slicing through the cheese.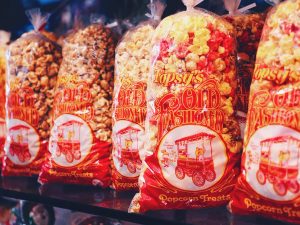 The possibilities are endless as to how you can dress up your modern charcuterie board. You can use popcorn, fruit, meat, cheese, and anything else that's your favorite.
Choosing the right Topsy's Popcorn flavor will offer a kick that's unexpected and a salty sweet combination that your palette is dying for.
Check out Topsy's Popcorn physical Kansas City location or online shop and select the delicious flavor that pulls at your heart strings.
Topsy's Popcorn, we make the good stuff!