Snack Pairings
Candy Pairing to Mix with Topsy's Popcorn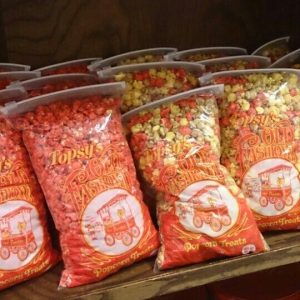 With Halloween right around the corner, finding a great popcorn and candy pairing is a must. Using Topsy's Popcorn, the desire to have a salty sweet treat can be satisfied with chocolate candies, mints and marshmallows.
Creating the perfect combination of Topsy's Popcorn and candy can also be great for an upcoming Halloween party. Simply make a large batch of the treat and package about a handful or two into festive plastic bags.
To grab a tin of Topsy's Popcorn, visit us online or give us a call at (816) 523-5555.
In this article, we will highlight five additions to mix in with your choice of Topsy's popcorn.
Candied Popcorn Mixes
1.      M&Ms
M&M's have been around since 1941. The originator of the chocolate candy was named Forrest E. Mar, Sr. and by the 1950s it was one of the most popular snacks on the market.
At the time, the slogan "look for the m on every piece" was created and color printing became available turning the "m" on the candy from black to white. Fast forward to today and M&M's has its own characters, merchandise and overall brand.
To dress up your Topsy's Popcorn, try using plain or peanut M&M's. Don't worry about using exact measurements when you mix the two, just eye each treat and eat!
2.      Reese's
Did you know that Reese's was made in the basement of someone's home? His name was H.B. Reese and he was an employee of The Hershey Company.
H.B. Reese came up with the peanut butter wrapped in chocolate idea and The Hershey Company supplied him with the chocolate coating he needed. Through the years, the two remained close partners during this candy venture and eventually The Hershey Company bought and owned Reese's in 1963.
Eventually, Reese's would go from small saucer like candy to small round pieces. These pieces are what you will want to add into freshly buttered Topsy's Popcorn.
Placing a dish of this out for a fall gathering is sure to get the party started. Visit our website to order your cannister of Topsy's Popcorn and dump in a few boxes of Reese's pieces for a great experience.
3.      YORK Dark Chocolate Peppermint Patties
Henry Kessler is the name of the creator of YORK Peppermint Patties. The candy was named after YORK, PA and has a National Peppermint Pattie Day to commemorate it.
To create a one of a kind snack, simply take YORK Dark Chocolate Peppermint Candy Minis and your choice of Topsy's Popcorn. Toss the two together in a large bowl and prepare to eat a refreshing yet tasty treat.
4.      Candy Corn
Candy corn has a long history of being some people's favorite candy and others repel it. However, it still makes for an age-old tradition of mixing it in with Topsy's Popcorn for the kids in your home.
It's speculated that candy corn came out around the 1880s. Corn, during this time, was viewed as food for chickens but soon it became the name of a cheap treat that children could enjoy for pennies.
In the 1950s, as Halloween began to grow as a holiday known for handing out candy, candy corn became associated with it for it's color and seasonality.
Today, we mix in candy corn with Topsy's Popcorn to create not only fall décor in our home but a sweet snack for the family to enjoy.
5.      Kraft Jet-Puffed Marshmallow Bits
What's the best part about Lucky Charms? The marshmallows of course!
Kraft Jet-Puffed Marshmallows were first seen on the market in 1958 and became a national brand by 1959. Later, it catered to Easter by creating candies and cookies as well as other holiday treats.
With Halloween coming, it'd be a perfect addition to mix in with Topsy's Popcorn.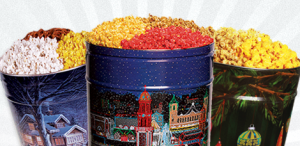 In conclusion, we've discovered five ways to spice up your Topsy's Popcorn snacks with Candy Pairing to Mix with Topsy's Popcorn treats!
Topsy's Popcorn is a shareable snack that can also create party favors for your visitors to enjoy. Create custom snack pairings with Topsys popcorn today!