What Is the Best Popcorn in Kansas City?
April 10, 2023
Popcorn Lovers, Get Ready for This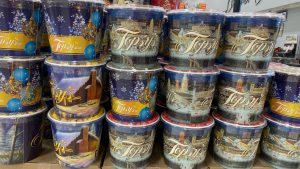 It's Topsys!
Located in the heart of America's Midwest, Kansas City, MO bursts with life, culture, and culinary experiences. From finger-licking barbecue to soulful jazz tunes, this city has it all.
But let's not forget the one thing that's been part of the city's tradition for over 60 years: its beloved Topsys Popcorn.
Topsys Popcorn is the king of all things crispy, crunchy, and flavorful. With its unbeatable quality, it has won over the hearts and taste buds of locals and visitors alike. From classic buttery goodness to creative flavor combinations, Topsys has something for every popcorn lover out there.
So whether you're strolling through the iconic Country Club Plaza, catching a Chiefs game at Arrowhead Stadium, or simply lounging at home with a movie—make sure to indulge in the magic of Topsys Popcorn.
What Makes Topsys Popcorn the Best in Kansas City?
So what sets Topsys apart from other popcorn shops in Kansas City, MO? The answer is simple: their delicious, freshly-made, popped-to-perfection gourmet popcorn.
They use only the finest ingredients to create their mouth-watering, savory popcorn flavors, including classic butter and salt, cheese, and caramel.
But it's not just their popcorn that is worth the visit. It's also their dedication to customer service. As soon as you walk into a Topsys store, you'll be met with a warm and welcoming smile that will make you feel right at home. The staff is knowledgeable about their products and always happy to help you find the perfect snack.
And if you're looking for the perfect souvenir or gift, Topsys also offers custom popcorn tins for all your special occasions. You can create your own theme and unique flavor combination, or choose from one of their pre-set options.
If you want to experience the magic of Topsys Popcorn for yourself, the time is now. You may never want to settle for ordinary popcorn again!
Multiple Locations, One Delicious Treat
Topsys has been a fixture in Kansas City, MO since 1948, serving up delicious popcorn to generations of popcorn lovers. With several locations throughout the city—Topsys makes it easy to get your hands on their famous popcorn.
Check out their store locations in Missouri, including:
Brookside Topsys
Country Club Plaza
Crown Center
Easthills Mall
Independence Center
Lees Summit
The Landing Shopping Center
Truman Corners
Zona Rosa
And for those across the state border in Kansas, Topsys has you covered with locations at 95 Metcalf Center, Legends Outlets Kansas City, Oak Park Mall, and Westridge Mall. No matter where you are in the Kansas City area, you're never too far from a delicious bag of Topsys popcorn.
For more information about each store location, including hours and contact information, visit Topsys' website. With all of these convenient locations, there's no excuse not to try Topsys' delicious popcorn for yourself!
You've Tried the Rest, Now Try the Best
When it comes to popcorn, you deserve the best. Kernels popping into a perfectly fluffy snack that everyone loves? That's what we call a perfect movie moment.
That's why if you're a popcorn lover in Kansas City, you owe it to yourself to give Topsys Popcorn a try. As a local favorite for over six decades, you can be sure to expect only the best in service and quality.
So the next time you're in the mood for a snack, skip the microwave popcorn and head to one of Topsys stores—or visit Topsys website to place an order. Your taste buds will thank you!