What is a Popcorn Machine
May 10, 2023
Does the name Charles Cretors sound familiar? Probably not! He was an ordinary man with an entrepreneurial drive for financial success. In 1885 Cretos invented what we call a commercial popcorn maker. Throughout 1880s Chicago, he tried selling his machines door-to-door and from his sweet shop with limited interest. However, it wasn't until the 1893 Chicago Columbian Exposition that people realized popcorn could be a snack food enjoyed while walking.
Cretos was a Chicago business owner trying hard to expand his business, selling popular sweets of the day. He was a Midwesterner to the core, always looking for ways to sell his shop's confectioneries. Cretos purchased a peanut roster and then modified it for making popcorn. This peanut roaster used a portable steam engine to make the heat inside a glass-walled chamber. His brainstorm of an idea simply replaced raw peanuts with corn kernels. Roasted peanuts were a popular street food leading Cretos to put his popcorn machine right outside his door on the sidewalk and in front of his confectionary store.
Popcorn and Confectioners
That first popcorn maker, sitting outside the same store that sold candy and other things with sugar, was a game changer. Confectionary stores took sugar (traded on the nearby mercantile commodity exchange) and made candy of all shapes and small sizes.
Late nineteenth-century urban residents walked everywhere on sidewalks. People window-shopped for candy and other "luxuries" they didn't usually buy as they walked by stores. Cretos capitalized on window shopping by getting people to stop, buy a new snack few even knew about, then hopefully get them into his store to spend money on candy.
Popcorn made on the street in front of a candy store is the first documented use of a commercial popcorn and peanut roasting machine. When he modified the machine, Cretos kept its peanut-roasting capabilities intact. This was a smart business move he codified by getting a patent for the dual design. In October 1893, Cretos was granted U.S. Patent Number 506,207.
Cretos had applied for the patent more than two years earlier as the world prepared for the next World's Fair. The 1893 World's Fair was a global celebration of Christopher Columbus's discovery. Thus, a byline for the Fair was the 400th Anniversary of Columbus discovering the Americas, also known as the Chicago Columbian Exposition.
Popcorn For the Masses
The importance of new inventions to an industrial society cannot be overstated. The 1893 Chicago Columbian Exposition happened during the industrial revolution, an era when people everywhere discovered how advanced tech could benefit people. The steam engine is probably the most consequential invention to come out of the Industrial Revolution. Using a steam engine for popping corn was revolutionary.
Cretos knew his popcorn machine would be a national hit because the "walk by" experience a popcorn cart created was successful outside his business. He upscaled, taking his machine to the Exposition so everyone could enjoy the popcorn experience as they "oohed and awed" at all the exhibits. Remember, these exhibits illustrated the prowess of human invention, a winning battle between people and the environment.
The point was to munch on and smell popcorn while connecting them with modern technology, like watching moving pictures on big screens in theaters. This connection didn't really occur until Cretos made the connection between wonderful sights and sounds. Popcorn opened people's senses to a brand-new mechanical world.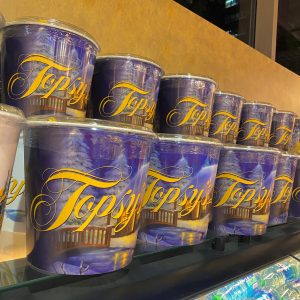 A Kansas City Tradition
When you visit a Topsy shop or buy a tin of Topsy's gourmet popping corn online, you experience the taste of street popcorn but with a healthy twist. Call or visit Topsy's for your personalized popcorn experience.