Popcorn Bags
Popcorn Bags: The Fun Way to Serve Your Popcorn
Who doesn't love popcorn? These fluffy, delicious and crunchy little morsels of magic make everything good, especially when enjoyed with friends or on a special occasion. Here at Topsy's Popcorn, we're always looking for fun ways to package and serve our popcorn. From popular popcorn gifts such as our popcorn tins and tubs to our great value refills, we make ordering popcorn online easy and serving it a breeze.
But the fun doesn't have to stop there. It's only the start of the story. There are many ways you can serve your popcorn at home or at a special event. Popcorn bags, for example, are a cute way to dress up your popcorn, serve it in individual portions and ensure everybody gets a taste of the magic.
Popcorn Bags For Parties
Whether you have a kids' party coming up or you're getting ready for Halloween or the holidays, fancy popcorn bags make great favors for guests, trick or treaters, and family coming to stay. A DIY popcorn bag with an adorable printed label is one of the easiest and most affordable ways to bring a smile to everybody's face.
It couldn't be easier to make popcorn bags: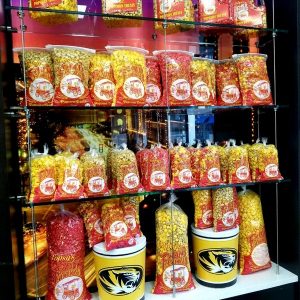 Order your Topsy's popcorn, choosing from our wide range of flavors
Grab some cellophane candy cone bags or small paper lunch bags
Fill your bags with one flavor or a combination of flavors from our range
Decorate your bags with colorful ribbons and a printed label for an extra special touch
This is a great activity to involve the family in. Collect together your crew and spend a fun afternoon filling and decorating your bags. We can't promise that there won't be some sneaky taste-testing going on during the process. After all, we do make the best popcorn!
Fun messages to put on your popcorn bags:
Birthday Invite – Pop on over to our place to celebrate!
Engagement Announcement – He/She popped the question!
Wedding Favor – Thank you for celebrating with us. We're butter together.
Birthday Favor – Hey, thanks for popping by! We hope you had a great time.
Wedding Favor Popcorn Bags
Mini popcorn bags make awesome bridal shower favors or wedding welcome gifts. Whether you choose caramel popcorn bags, cheese popcorn bags, or traditional buttered, you can be sure your guests will love the gesture. Why not use your popcorn bags as place settings at your wedding tables? You could even match your popcorn flavor or color to the time of year or your color theme. A mix of cinnamon, caramel, and buttered popcorn would work really well for a Christmas wedding.

Popcorn Bags Just Because…
You don't even have to have a special occasion to have some fun with popcorn bags. They make great "just because…" gifts to show your appreciation for friends or the perfect way to snack on a family movie night. Just give everybody their very own popcorn bag and you can avoid the usual battle for the popcorn bowl!
The Easy Way to Share Topsy's
Popcorn bags make it easier than ever to share the Topsy's love. We make buying popcorn in bulk simple and offer a variety of flavors. Take a look at our range of delicious popcorn today and give everybody a gift they will be talking about for days. It's the good stuff!
Order your popcorn bags today!