Topsy's Popcorn & Ice Cream Pairings
May 26, 2022
Is there anything that better pairs with smooth popcorn than creamy ice cream? It's the perfect popcorn treat that beats the heat.
What's better than one delicious snack than combining two?
Is Popcorn Good with Ice Cream?
Popcorn combined with ice cream is perfect for your next movie night. And Topsy's variety of flavors allows you to get creative with popcorn flavors.
Be careful when you reach for Topsy's popcorn. You might get hit with a flavor explosion.
Popcorn and Ice Cream Pairing Ideas
Popcorn and ice cream are both perfect Netflix nibbles. Why not combine them?
There's no easier recipe. Get a scoop (or five) of ice cream. Sprinkle a lot of Topsy's popcorn on top. Boom.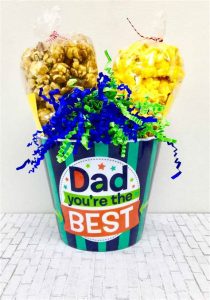 Cinnamon Popcorn Ice Cream Pairings
Topsy's popcorn with sugar is a yummy family treat. This creative snack adds novelty to movie night and other average events like game night. The affordable dessert is crave-able and sweet.
The snack leans in the sweet direction. The flavor of ground cinnamon makes it a desirable dessert.
Mix cinnamon popcorn with coffee ice cream for a summer twist on a chai latte. It can also add a spicy kick to traditional chocolate ice cream.
Cheese Popcorn Ice Cream Pairings
Topsy's cheese popcorn is addictive and yummy. The flavor lingers and you can't get enough of it. It's the perfect snack for throwing an exemplary movie night party.
But what makes our cheese popcorn so cheesy? It's because we use top-quality cheddar cheese powder. Our ingredients include fresh popcorn, cheddar cheese, and butter. You can never get enough of Topsy's cheese popcorns.
We'll admit that cheese isn't the best pairing with traditional ice cream flavors. Instead, it's an opportunity to dip your toes in the delicious world of savory ice cream. If you're lucky enough to get your hands on bacon or sriracha ice cream, then you've got a perfect pair.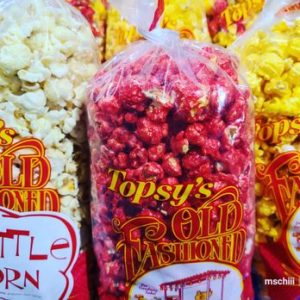 Caramel Popcorn Ice Cream Pairing
Our caramel corn has all the sweetness without sticky corn syrup. The movie snack is remarkable a gooey and buttery taste that lingers in the mouth.
Topsy's caramel popcorn adds a pop of sweetness to vanilla ice cream. Craving fall flavors in summer?
Combine caramel popcorn and buttered pecan ice cream to transport your taste buds to the pumpkin patch
.
Order Topsy's Popcorn Today
Are your taste buds tingling?
They're telling you it's time to order Topsy's. Our variety of popcorn flavors suits every craving. Whether it's caramel, cheese, or cinnamon popcorn you want, we've got your back
.
Ordering at Topsy's is easy. With a few clicks, you get a tin of popcorn with the ice cream flavor you crave. Delivery is fast and efficient.