Celebrate KC Sporting with These Fun Soccer Party Ideas
March 17, 2022
KC Sporting is back in town, and we couldn't be more excited. Here are some family-friendly ideas for celebrating Kansas City's favorite soccer team (or your kid's little league).
Invitations
Get the party started before it begins! The internet is full of fun soccer-themed downloadable invitations. A paper that looks like a soccer field ensures that guests won't forget your event.
Soccer Party Decorations
Decorations need to be as fun as the game they're celebrating. Here are some fun ideas that will get everyone excited to cheer on KC Sporting:
Soccer Ball Balloons
Soccer Field Tablecloth
Soccer Themed Banner
Soccer Ball Paper Lanterns
Soccer-Themed Goody Bags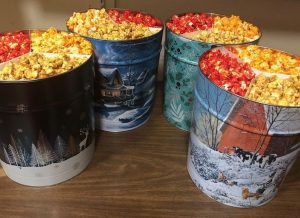 Games
Okay, this one's a little obvious. You can't have a soccer party without a game of soccer. Make everyone a winner by rewarding all the guests with titles. These titles don't have to be soccer-related. "Biggest Prankster" is as big of an honor as "Fastest Runner."
A soccer-themed pinata is another great way to get everyone excited. What kid doesn't like breaking this and getting candy.
Soccer-Themed Snacks
Players need fuel to keep on running. Here are some fun snack ideas for your mini KC Sporting:
Popcorn Bags: We recommend Topsy's delicious popcorn varieties to celebrate KC.
Soccer Ball Sugar Cookies: Top sugar cookies with black and white icing in a soccer ball pattern.
Game-Day Hot Dogs: Does anything scream stadium more than hot dogs? Give your guests a chance to create a prize-worthy hot dog with a hot dog bar filled with fan-favorite toppings.
Turf Cupcakes: Fill a bag with green icing. Create "turf" on cupcakes using a shaped icing tip.
Soccer Green Guacamole: Easy and perfect for a crowd.
Celebrate KC Sporting with Topsy's Popcorn Bags
There isn't a better way to cheer on KC Sporting than with a Kansas City classic.
Topsy's is a Kansas City tradition perfect for at-home parties and stadiums. Our cheese, cinnamon, and caramel popcorn bags are sure to get your tastebuds kicking.
Visit our website to order popcorn bags.