Popcorn Bar: Wedding Edition
September 8, 2022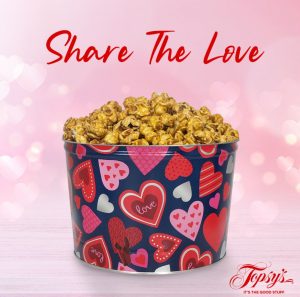 The wedding season is upon us!
And that means you need to start thinking about the most important part of your wedding: the reception.
The perfect reception has all the elements—food, drinks, and entertainment. With a popcorn bar, you can have all three!
A popcorn bar can be added to any reception and it doesn't take much effort to make it look great. The best part is that it's customizable to fit your theme and style.
Topsy's popcorn is here to help you plan your perfect wedding with a popcorn bar! We'll walk you through how to set up a decorative popcorn bar so that everything looks amazing.
Let's get started!
Cheers to the Lovebirds!
Are you getting married? Congrats!
We're sure that, like many brides and grooms, you've been busy planning the perfect day—and we know it's not easy.
But if there's one thing that can make your special day even more special, it's having a wedding this summer season.
If you haven't already considered planning a wedding in the summer, here are just a few reasons why having a wedding at this time of year is grand:
You'll have a gorgeous outdoor ceremony with the sun shining on your face and a cool breeze blowing through your hair.
The colors are so vibrant and beautiful, especially if you have an outdoor wedding venue!
You can have a popcorn bar at the reception! Everyone loves eating popcorn at weddings! (Especially when it's free.)
Make Your Wedding Pop With a Popcorn Bar
If you're hosting a wedding, chances are you're doing everything you can to make it the best day ever. So why not add some extra flair?
With our Topsy's popcorn bar, you can add a little extra something to your reception that will have your guests raving for years to come. And what's more, it's super easy—we promise!
Our popcorn bar options include:
Gourmet Flavors: We offer a wide variety of gourmet flavors that will make your guests' mouths water. Some of our most popular flavors are Caramel, Butter Cinnamon, and Cheese.
Popcorn Bowls: Our bowls come decorated in various sizes and colors so that you can choose the ones that match your theme best!
Toppings: We offer a variety of different toppings for our popcorn bars so that you can make every bite as unique as possible. You can even choose from our selection of candy or chocolate toppings!
The best part of our popcorn bar edition is that it doesn't stop at just being a great addition to your reception—it's also a great way for everyone at the party to get involved. Guests can make their custom mix of toppings so they can have exactly what they're craving!
How To Set up the Best Popcorn Bar
Have you ever wanted to have a popcorn bar at your wedding? We know it can seem like a daunting task, but with our help, it's easily achievable!
Here are some tips to help you get started:
Decide what kind of popcorn you want. Do you want salty or sweet? We've got both!
Determine how many guests will be attending your wedding and how much popcorn they'll need per person. Then order accordingly!
Set up the bar so that each guest can easily grab their own bag and go! You don't want them waiting in line for too long!
Enjoy your wedding day knowing that everyone is happy and well-fed with delicious Topsy's popcorn!
Topsys' Popcorn Bar- Adding a Little Magic to Your Special Day!
If you're looking for a unique way to add some fun to your reception, Topsy's Popcorn is the perfect solution. With our popcorn bar wedding edition, we'll bring the popcorn bar right to your reception venue and set it up with everything you need: from the actual popcorn machine to the bowls and serving utensils.
You'll be able to serve up delicious popcorn in no time—and with our customizable recipes and flavors, you can even create a custom mix that suits your tastes!
So what are you waiting for? Contact us today to learn more about how Topsy's Popcorn can be a great addition to your big day!