Wedding Popcorn
Three Ways to Create Wedding Popcorn Favors
Wedding popcorn favors will make your special day all the sweeter. It's a family-friendly snack that kids and adults love. The butter on top is that popcorn can make your wedding even more beautiful.
Here are a few ideas of how to incorporate popcorn into your wedding décor.
Make your vintage wedding more timeless with this old Hollywood throwback. Rent a popcorn machine and fill it with Topsy's popcorn.
Crafty spouses-to-be can also handcraft their popcorn cart using wooden pallets. A handmade pallet can be used on your wedding day and on special occasions you'll share after.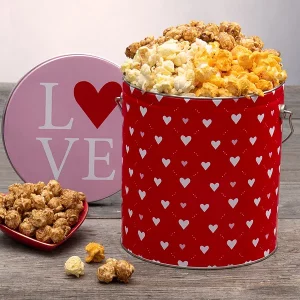 Popcorn Bags
Customized popcorn bags can be ordered online. Personalize your bags with your names, logo, or a design that you both love. Your wedding guests will be able to take these popcorn bags from the dinner table to the dance floor.
Popcorn Toppings Bar
Wedding bars are beautiful. Popcorn bars are no exception. Flower vases give popcorn bars an elegant touch, while a glass table makes them ultramodern.
Each guest will be satisfied with the snack they create. Be sure to have a mix of sweet (such as M&Ms, marshmallows, and Oreos) and savory (such as bacon and blue cheese) toppings. Bonus points if you have multiple popcorn flavors to choose from.
Make Your Wedding Day Pop with Topsy's
Topsy's wants to take some of the stress out of your big day by finding your perfect wedding favor. Treat your guests (and yourself) to popular wedding day popcorn flavors such as cheese, cinnamon, and caramel popcorn.
Visit our website to order wedding popcorn today.