Fall Popcorn Recipes
August 17, 2023
Have You Tried These Popcorn Mixes?
The fall season is here. It's time to start creating cozy mixes to enjoy. As we embark on the holiday season and all the hustle and bustle that goes into it, consider these incredible mixes to take along with you for the trip.
Are you ready to take your popcorn game to the next level this season? The golden hues of fall have begun to adorn our surroundings, and now is the perfect time to spice up our snack repertoire!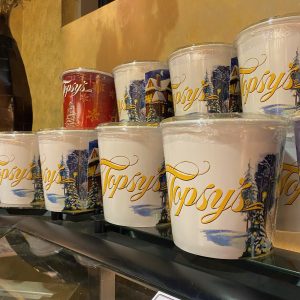 Discover Fall Popcorn Combos with Topsy's Popcorn
As 2023 rolls in with its chilly breeze and cozy vibes, Topsy's Popcorn is here with an enticing fall popcorn lineup that promises to satisfy your taste buds in ways you've never experienced before. You may have these ingredients in your pantry, in your refrigerator or they are sure to be available at your local grocery store.
Let's dive into popcorn pairings you're sure to enjoy.
Buttered Popcorn and Salted Cocktail Peanuts: When you think to yourself, "How much is a bag of Topsy's popcorn?", know that it's worth every penny. Pair the buttered popcorn with salted cocktail peanuts and this combo satisfies that familiar afternoon salty craving. This combination is sure to deliver a crunchy satisfaction that will make your day.
Cheese Popcorn and Peanut M&M's: Embrace the vibrant colors and crispness of the fall season with this colorful mix. The rich, cheesy delight of Topsy's popcorn coupled with the crunch of peanut M&M's promises a flavor explosion that is a treat for both the eyes and the palate!
Caramel Popcorn and Mixed Nuts: Planning a movie marathon this weekend? We've got your snack needs covered. Dive into the sweet embrace of caramel popcorn while the mixed nuts add an earthy depth, making every handful an adventure of textures and flavors.
Cinnamon Popcorn and Marshmallows: The aroma of cinnamon embodies the spirit of fall. So, why not introduce it into your popcorn mix? Paired with fluffy marshmallows, this combo invites a dance of spicy and sweet that's nothing short of delightful. If you've ever pondered where to buy Topsy's popcorn that pairs perfectly with these ingredients, wonder no more. Simply visit us online to purchase the size and custom mix of your choice.
Concluding The Fall Popcorn Fiesta
Treat yourself this season with these innovative popcorn mixes, and let every kernel remind you of the magic of fall. Curious about "how much is Topsy's popcorn?" Connect with us by calling 816-523-555 or make your way to a local Kansas City store. This autumn, let's make every snack session a Topsy's celebration!