How To Make Popcorn Cakes
June 7, 2022
What's for dessert? Popcorn cake made using Topsy's Popcorn! It is easy to make using a super simple no-bake popcorn recipe that's great for the whole family. This popcorn cake recipe is best made with delicious Topsy's popcorn. Here are a few more ingredients you'll need to complete the recipe.
Popcorn Cake Ingredients
1. 4 quarts of Topsy's popcorn
2. One pound of candy-coated chocolate
3. One cup of peanuts (skip if you're allergic)
4. M&Ms or any other toppings of your choice
5. 1/3 cup of vegetable oil
7. One-pound marshmallows
Directions
Step 1:
Mix the Topsy's popcorn, M&Ms, and peanuts in a large bowl. If anyone staying in the desert is allergic to peanuts, it's best to skip adding them. Instead, you can use almond butter, walnut butter, or pumpkin seeds.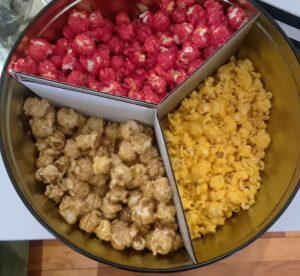 Step 2:
Bring a pan to temperature on medium heat and add oil, butter, and marshmallows. Stir the ingredients until they are completely melted. Keep the flame on a low flame once everything comes to a boil.
Step 3:
Pour your Topsy's popcorn, M&Ms, and peanuts into the melted butter and stir with a strong grip.
Step 4:
Next, spray a pan with vegetable oil for a non-stick effect. Press your popcorn cake mix into the pan and place it in the refrigerator.
Step 5:
Place mix in the fridge for an hour. Take it out and place it in a bowl of warm water for a minute, then turn it upside down. Voila! You have yourself a delicious popcorn cake (easy peasy lemon squeezy). Take it from us; it's one in a million.
This recipe can serve six people. It also keeps well if you have some leftovers (if you don't gobble it all in one bite). The recipe takes twenty minutes… Tops (pun very much intended). Popcorn recipes have never been this simple yet delectable. This popcorn cake will be a definite hit with the kids and the adults. It is also a great dessert to serve at a party.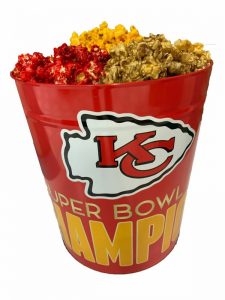 Popcorn Recipe Tips
Don't overdo the oil, or you'll end up with a greasy popcorn cake; nobody wants that. If you're one to eyeball the oil, grab a measuring spoon this time; trust us, you will not regret it. Some people might recommend using Canola oil, but it's too intense for this recipe so avoid it.

Have a strong sweet tooth? Pour chocolate or powdered sugar over the popcorn cake to make it extra sweet.

Go crazy with toppings! Chocolate sprinkles, anyone?

Use the different colored M&Ms to match the occasion (i.e., red and green for Christmas, green for St. Patrick's Day, etc.)
Build Delicious Popcorn Cakes with Topsys
The best part about this recipe is getting Topsy's popcorn from any grocery store nearby. A Topsy's popcorn cake is one for the books when done right. Buy a pack today and experience the Topsy's Popcorn Cake-induced taste bud explosion.