Popcorn Recipe Ideas
Ten Delicious Ways to Use Popcorn
Popcorn's great on its own, but sometimes you want to spice things up. Here are a couple of popcorn recipe experiments for you to test out. 
Chocolate Bark
Double the crunch, double the flavor, double the goodness. Chocolate bark is easy to make and hits every flavor craving. 
Recipe from JustaTaste. 
Mix-In with Ice Cream
There's nothing better than cold ice cream to bring down the heat on a summer's day. The salted caramel in this treat makes it extra decadent. 
Recipe from The Food Network. 
Granola Bar
Planning to hit the trail? Keep the energy going by munching on these popcorn granola bars. 
Recipe from MyRecipes.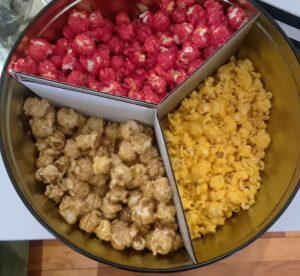 Truffles
An easy way to make a fancy treat. These bite-sized snacks are so good you might eat them in one go. 
Recipe from Keepin' It Kind. 
Snack Mix
Bring on the party! This crowd-sized snack contains everyone's favorite snacks, including M&Ms, pretzels, and Teddy Grahams. 
Recipe from The Baker Mama. 
Kitchen Sink Cookies
Have spare snacks? Throw them in some chocolate chip cookie dough for a twist on a classic! 
Recipe from Sugar Spun Run.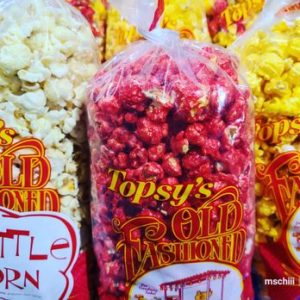 Bread
This recipe is perfect for budding bakers. This simple recipe creates a sweet bread that pairs well with a sweet jam or Nutella. 
Recipe from Food. 
Popcorn Balls
These smell, feel, and taste like a carnival. This old-fashioned snack will never go out of style. 
Recipe from AllRecipes. 
Cake Topping
A cake perfect for a red carpet event or a family gathering. This cake is gooey, crunchy, and stunning. 
Recipe from SouffleBombay. 
Candy. Popcorn.  
Two classic movie snacks that are good apart and even better together. 
Recipe from Divas Can Cook. 
Get Creative with Topsys Gourmet Popcorn
and your Popcorn Recipe

Hear that?

It's your stomach rumbling after reading these delicious popcorn recipes. It's time to satisfy your craving with Topsy's. 
Click here to order delicious popcorn to experiment with.