How To Make Topsys Popcorn Balls
October 11, 2022
Popcorn Balls – Taste the Difference
Topsy's Popcorn is a Kansas City area tradition. For over 60 years, we've been making the best popcorn you can find.
And we're not just talking about any old popcorn! We offer an array of flavors and styles to suit every taste. Our customers love how easy it is to get their hands on our mouthwatering snacks.
Our popcorn is perfect for making Popcorn Balls, which are simply delicious! We offer a wide selection of flavors: butter-flavored, caramel-flavored, and cinnamon flavored. Each flavor is made with real butter or caramel sauce or cinnamon, so when you bite into it, you can really taste the difference! And if that wasn't enough to get you excited about our popcorn balls… they're also gluten-free!
So, we hope you'll give Topsy's Popcorn Balls a try—they're sure to become part of your family tradition as well!
Popcorn Balls- No Tricks. Just Treats.
It's time to make some Topsy's popcorn balls!
Popcorn balls are a classic party snack. They're crunchy, sweet, and salty, and they're perfect for any occasion—especially when you've got a crowd to feed!
They're easy to make, and they taste delicious. If you're feeling adventurous, you can even make your own popcorn ball mix!
We love getting creative with our popcorn balls, but sometimes we like to go simple. Here's how to make a classic popcorn ball:
Ingredients
To make these delicious treats, you will need:
4 Quarts of Topsy's popped popcorn (which comes in three different flavors)
1/2 cup granulated sugar
1/2 teaspoon salt
1/2 cup corn syrup (Dark/ White)
Butter/ Cooking spray for hands
Directions
Step 1: Pour 4 quarts of Topsy's popped popcorn into a large mixing bowl.
Step 2: Combine salt, sugar, and corn syrup in a medium saucepan over medium heat. Stir constantly until the mixture begins to boil. Remove from heat and pour over popcorn. Stir until evenly coated.
Step 3: Line a baking sheet with parchment paper and spray with cooking spray. Use butter on your hands as well if you want to avoid sticking (we recommend using cooking spray).
Step 4: Shape the popcorn into balls by rolling them between your hands—they should be about 1-inch wide—and place them on a prepared sheet about 2 inches apart (you'll need two baking sheets). Leave some space in between each ball so they don't stick together while they cool down.
Step 5: Allow them to cool completely before serving or storing them in our gourmet popcorn tins and seal with our well fitting lid for maximum freshness.
You can make Topsy's popcorn balls in any color, size, or shape you choose. Here are some of our favorite combinations:
Sprinkles and dried cranberries
Crushed peanuts and chocolate chips
Chocolate-covered raisins and coconut flakes
Mini marshmallows and peanuts
You can find Topsy's shops located throughout Kansas City at Country Club Plaza (816) 753-7373, Crown Center (816) 472-5087, and many more locations. Check out our website to find Topsys stores near you!
Topsy's Popcorn – It's the Good Stuff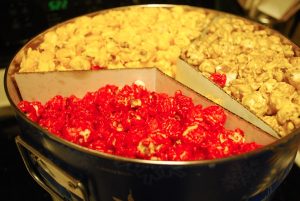 We at Topsys Popcorn believe in making the world a better place. That's why we've worked hard to develop delicious, fresh, and healthy popcorn that you can make into popcorn balls at home, without any worry about chemicals or additives.
Popcorn is great when it's fresh from Topsy's—and even better when it's shaped into a ball. Your friends and family will be so impressed that they'll have no choice but to eat them all up!
If you love deserts as we do, then we hope you'll try making your own popcorn ball using our popcorn.
So go ahead: give our fresh popcorn a shot by contacting us at 816.523.5555 or visiting our website today!