Valentines Day
Tasty Fresh Popcorn for Valentine's Day
Looking for an unconventional way to celebrate Valentine's Day with your loved one? Forget the expensive gifts and be unusually wild with gourmet gifts. What better way to surprise your loved one than with a gourmet gift tin carrying fresh popcorn for your Valentine's Day treat?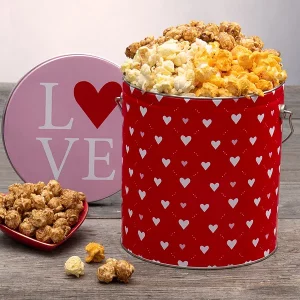 Popcorn has constantly played a significant role in February parties that Americans have enjoyed for centuries. When voting for your favorite Oscar winners, a bucket of delicious popcorn is always the best company. Alternatively, if you are a sports lover, you can place a bet that our flavorful popcorn will satisfy your appetite during the next Super Bowl.
Are you a lover? Whether with your friends, family, or lover, celebrating the much-anticipated Valentine's Day with love-themed popcorn from Topsy's Popcorn is almost a fantasy. It is the perfect opportunity to showcase your culinary prowess and affection with our mouth-watering popcorn.
Valentines Popcorn Tins
Previously known as Patsy's, Topsy's Popcorn has served delicious, flavored popcorn to your friends and neighbors in Kansas City for over 60 years. We can help you find the perfect Valentines Day gift tin with fresh popcorn for that Valentine's Day date night.
Luckily, our clients trickle in daily to offer heartwarming feedback for our reputation as the best popcorn guys locally. In addition, thousands of popcorn fans honestly admit that Valentine's Day and every other special holiday should be spent ordering gourmet gifts from Topsy's Popcorn. Still, looking for reasons to order from us for Valentine's?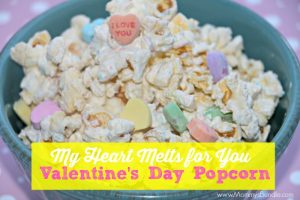 Valentines Popcorn Gift Tins
Picture the aftereffect on your loved one's face, as they count every single reason they adore you from our decorated popcorn buckets. We take responsibility for putting smiles on your loved one's face every Valentine's Day.
Our delicious, gourmet popcorn comes in various savory flavors, including tangy cheese, spicy lemon, rich caramel, buttered fresh popcorn, and sweet caramel. Choose us for a tasty treat this coming February. Presentation also matters, especially if you are celebrating a day of love. Take advantage of our thoughtfulness by ordering our flavored popcorn in decorative gift tins. Rest assured, we will stimulate all your functioning senses with nothing short of the best popcorn.
Valentines Day Popcorn
Topsy's Popcorn values every customer order, even on busy special holidays. Ordering popcorn as Valentine's Days gifts is an unbreakable tradition. Popcorn brings hands together in the sweetest way, whether you are gathered around with a group of friends or watching a movie.
At Topsy's, we surpass expectations by being the absolute best in the business. We understand your love for fresh popcorn. Most importantly, we understand your need to express this love to someone else. Order a tasty package of tantalizing popcorn to be delivered this coming Valentine's Day.