Caramel
Caramel Popcorn from Topsys
The taste of flavored popcorn is hard to beat. But the magical taste of caramel popcorn will satisfy any gourmet popcorn craving! For over 60 years, Topsy's Popcorn has dominated with a variety of tasty flavored popcorn such as buttery, cheesy, cinnamon-y, and one of the most popular flavors of caramel! The caramel-y taste is a Kansas City tradition that only Topsys can provide!
If you're outside the Kansas City area, you can enjoy the tastiest of Kansas City tradition as Topsys ships nationwide! Headquartered in Kansas City, MO Topsys has a dedicated online presence delivering its magical appeal worldwide.
History of Caramel Popcorn
Popcorn is a popular delight for family and friends for any occasion. Today, the blend of popcorn with caramel brings out an exhilarating crunchy and sweet taste making it an icon across America.
The idea behind caramel popcorn first made its appearance in the 1800's and was introduced by the famous brothers Fredrick and Louis Rueckheim.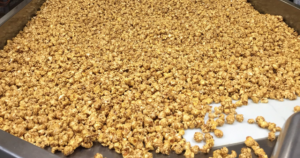 After trying the combination of popcorn and Caramel a customer, exclaimed, "That's a crackerjack!" which meant great quality in those days. With the introduction of the Cracker Jack idea, the crunchy and fluffy popcorn treat became an all-time favorite. Also, Jack Norworth, an artist, wrote a song, "Take Me Out To The Ballgame," referring to Cracker Jack, making it a popular tune for this snack while boosting its revenue.
National Popcorn Day
This flavored popcorn fascinated people so much, leading to the establishment of the National Caramel Popcorn Day, celebrated every year on April 6. On this day, we celebrate the combination of Caramel and Popcorn. This is a confection made by coating popcorn with sugar or molasses-based caramel candy. Over the decades, caramel popcorn established its place as a favorite snack with no immediate substitute.
Today it's easy to buy popcorn or make some at home but celebrating this memorable day requires a magical taste only found at Topsy's Popcorn.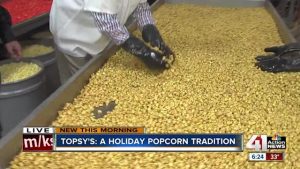 Celebrating National Caramel Popcorn Day with Topsy's Popcorn
A celebration needs a unique setup that will always be memorable, and this is what you will get with a tin of delicious caramel popcorn. The National Caramel Popcorn Day at Topsy's gives you a fun-filled opportunity to enjoy and savor the taste of two great treats, caramel and popcorn.
To celebrate, make sure you try your favorite caramel flavored popcorn. Pick up your caramel popcorn tin from Topsys but don't forget to play the song behind caramel popcorn's popularity, "Take me out to the Ball Game."
Share with others the joy that comes with the magic in every piece of caramel flavored popcorn. Place an order and send a tin of Topsy's flavored popcorn to your loved ones.
Buy your caramel popcorn from Topsy's today! Taste the magic!