Five Cheese Recipes Guaranteed to Make You Feel Cozy
March 10, 2022
Have snowstorms been giving you the blues lately?
We're feeling it too. Kansas City's spring so far has been giving us more snow than sunshine.
But perhaps we can embrace our extended winter. These gooey cheese recipes will give you the warm feeling you're craving.
The Best Cheese Recipes
Mac and Cheese
Mac and cheese is the ultimate family recipe. Every family has its recipe and stories that come with it.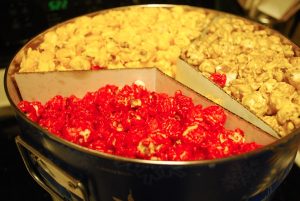 You might bake yours and stuff it with gooey Velveeta pockets just like your mom taught you. Or you might prefer to top yours with chili and bring it to cookouts. Even cooking boxed mac and cheese is guaranteed to bring back fond memories.
Queso Dip
Planning to kick back and relax with friends on Friday? They'll love you when you bring queso to pair with takeout tacos.
Want to know the secret to creating gooey queso dip? Evaporated milk! You'll build your queso by bringing evaporated milk to a simmer on the stovetop. Turn the temperature down to low and mix in your cheeses of choice (we recommend white cheddar and mozzarella for the perfect combo of flavor and cheese stretch). Once the cheese is melted add chopped peppers and chili flakes.
Bon Appetit!
Grilled Cheese
There are two ways to do grilled cheese.
The first is the easy way that we all know and love. Butter two slices of Wonder Bread, throw two slices of American cheese in between them and cook them on the stove. Simple and classic.
The second is the kind that you'll save for date night. There are so many ways to update your grilled cheese. We recommend swapping out sliced bread for brioche for added sweetness. Replace the slice slices with a mix of gruyere white cheddar. If you want to take this recipe to the next level add caramelized onions. Now that's a grilled cheese no one can resist.
French Onion Soup
Oh-la-la! French onion soup is a perfect winter comfort recipe. It's also shockingly easy to make for such a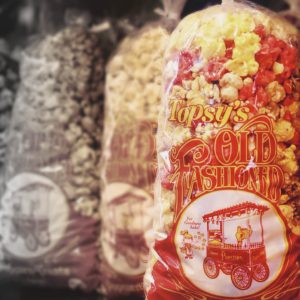 fancy recipe.
Cheese is the star of the show here. When you make French onion soup, you're making it for the moment when you dig your spoon into melting, bubbling cheese.
Cheese Popcorn
Okay, we're cheating here. Cheese popcorn is something you buy rather than make. But it's still comforting nostalgia food, so it's good enough for our list.
Topsy's cheese popcorn is a shareable snack everyone will love. So go ahead and share a popcorn tin to create warm memories with family and friends.
Share the Love. Share the Topsy's.
Topsy's popcorn tins are large enough to last even the longest snowstorms. Popcorn pairs well with movies, hot chocolate, and all the other things that you use on a snowy day.
Visit our website to order Topsy's popcorn tins.