Chiefs Popcorn for Red Friday
November 3, 2023
Whether you bleed Chiefs red or are new to the world of sports, there's a tradition that sweeps Kansas City every week, and it's impossible not to be swept up in the excitement.
We're talking about none other than Red Friday!
What is Red Friday?
Every Friday, in the run-up to a Kansas City Chiefs game, fans and residents alike adorn themselves in red. This isn't just a sea of jerseys, though that's a common sight!
It's red hats, scarves, shoes, and even accessories. It's a visual wave of support and a testament to the passion of the Chiefs Kingdom.
For Non-Sports Fans
You don't have to be a die-hard football enthusiast to participate in Red Friday. The essence of this tradition is unity, camaraderie, and city pride. By wearing red, you're not just supporting the Chiefs – you're celebrating Kansas City, its vibrant culture, and the close-knit community.
Gear Up at Topsy's!
For those looking for the perfect attire to fit in on Red Friday, look no further than Topsy's. Known for our delicious popcorn, we are also the go-to spot for Chiefs merchandise.
You don't have to search anymore for a snack to munch on during the game. Topsy's offers a special Chiefs tin that's custom-made with the flavors you choose and is a great piece to show off on your coffee table or office desk.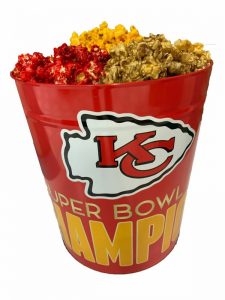 We have a fantastic selection of red Chiefs t-shirts that are stylish, comfortable, and perfect for both game day and any other day you want to show off your city pride.
Why Join in on Red Friday?
In essence, Red Friday is more than just a sports tradition. It's a reflection of the spirit of Kansas City. Every red-clad individual is a part of a collective heartbeat, each beat echoing the pride, passion, and unity of this incredible community.
By participating in Red Friday, you get to enjoy the fondness of being part of our community. You don't have to be a die-hard sports fan to take part in this tradition.
So, whether you're a seasoned Chiefs supporter, a casual fan, or someone just looking to share in the joy and pride of the city, donning red on Fridays is a beautiful way to participate.
Be a Part of the Chiefs Kingdom!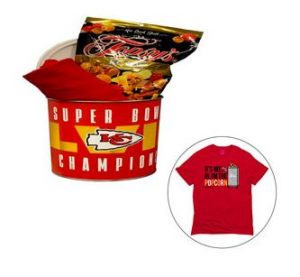 Ready to join in the fun? Head over to Topsy's and grab your Chiefs tin and red t-shirt. Show your love for the Chiefs and our beautiful city, and let's make every Friday the reddest day of the week!
Show your spirit, embrace the energy, and let's celebrate Kansas City and our Chiefs together. Visit Topsy's Popcorn today and gear up for Red Friday!
Get your Chiefs Popcorn for Red Friday today!