Chiefs Tailgating with Topsys Popcorn
September 15, 2022
Get Ready For Some Popcorn and Tailgating!
Are you new to Kansas City and looking for things to do before a Chiefs game? Are you a newly vetted Chiefs fan who's looking for tips before the game?
Whatever your interest may be, in this article you will find tips on how to create a fun tailgate experience. You will also find out where to find Topsy's Popcorn to enjoy with the game.
What is Ttailgating?
Tailgating is a social gathering where friends convene around the back of their parked cars or trucks and serve up a tasty meal and treats. Some things you'll see at a tailgate event is tables, picnic chairs, tents, and coolers.
This collective way of celebrating during an event is said to have originated in the late 1800's to the early 1900's where people would assemble to celebrate various things such as a simple football game to the Battle of Bull Run in the American Civil War. There is still plenty of speculation and folklores that tell a variety of where it all began.
One thing remains, this is a crowd party that you do not want to miss. Were you invited to a tailgate party and in need of something to bring? Check out our selection of flavors by visiting our website!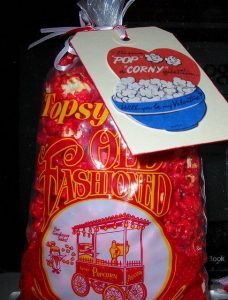 What To Bring To a Tailgate
The great thing about tailgating is that you can bring anything you want. It's more about the experience of delicious foods, drinks, and people.
For Chiefs Fans, Topsy's Cinnamon Popcorn is the perfect edition to tailgating. Topsy's Cinnamon Popcorn represents the Chiefs with its red color and adds to the excitement of the team with the spicy sweet flavor.
If all else fails and you're still unsure about what to bring to a tailgate, grab a variety popcorn tin from our website and let the game begin!
Chief's Tailgating Experience
From drink specials to live entertainment, attending any of the tailgating experiences Arrowhead Stadium provides is a guaranteed good time. Each tailgating experience is open at least 3 hours prior to the game and includes food and games.
There are various packages available to enjoy and the hospitality offered inside the tent creates a welcoming environment. These events are open to all ages.
Topsy's Popcorn
Topsy's Popcorn has had a long standing tradition of being the go to popcorn shop for special events. Whether it's a game day, birthday or wedding, Topsy's Popcorn provides various flavors, refill bags and more both online and in store.
Topsy's Popcorn is here to help you celebrate your next Chiefs Game. Head on over to our location in Kansas City, MO or visit us online to order your Chiefs tin today!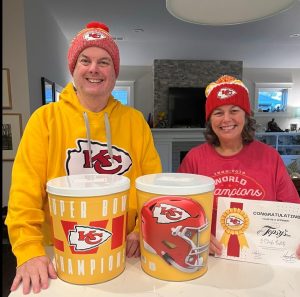 Do some Chiefs Tailgating with Topsys Popcorn!