Topsy's Game Day Experience
November 13, 2023
There's nothing better than sharing time with your loved ones – unless it's sharing time with your loved ones while rooting on the Kansas City Chiefs. Thanks to Topsy's Popcorn, two lucky fans were able to do just that. And it all started with a gift of "the Good Stuff."
In October, the Chiefs were in the national spotlight, not just because of their play on the field, but because of the budding romance between tight end Travis Kelce and pop star Taylor Swift. Amidst the excitement, Topsy's ran a promotion in which a pair of Chiefs tickets were randomly placed in a tin of delicious Topsy's Popcorn.
A lifelong Chiefs fan, Matt Price ordered a tin for his sister, Lori MacDonald because it reminded them of their childhood and their parents. Of course, neither one of them had any idea the tin they received contained the winning ticket. Imagine their elation when these siblings, neither of whom had attended an NFL game at Arrowhead, realized they had won tickets to see the defending Super Bowl champions in person.
"(My brother) remembers going to the old Kansas City Memorial Stadium during the Len Dawson era and watching a game when he was a little boy with our dad," Lori said. "Our Dad and Mom were both devoted Chiefs fans and when I walked into the entrance of Arrowhead, and saw the gigantic mural of Len Dawson, I couldn't help but feel that our parents were with us in spirit. They probably couldn't be any happier, knowing that we won tickets and were both going together to cheer on the Chiefs!"
No visit to Arrowhead would be complete without experiencing its legendary tailgating scene, but for Lori, seeing the field in person was a breathtaking experience.
"I'll never forget walking through the darkened corridor to get to our seats and looking out at the bright green field surrounded by blinding red," she said. "It felt surreal and completely different than watching it on TV."
At the game, they were seated next to Ben and Aiden Ramm, the son and grandson of Topsy's owner, Bob Ramm, a long-time Chiefs fan himself.
"Matt and I both commented that we could not have picked two nicer people to sit next to us!" Lori shared. "Aiden is a hoot! I teach pre-kindergarten and I have 18 students ages four and five, so I felt completely 'at home' chatting with Aiden. We talked about the KU Jayhawks, his favorite popcorn, his light up Halloween costume, his own football team, the Roosters going to the 'Super Bowl' and so much more. We both got excited when Kelce and Mahomes came on the field. Aiden shared with me that this was his first game at Arrowhead Stadium too!"
Before they knew it, it was the end of the second quarter and at halftime, Matt and Lori were treated to complimentary Topsy's popcorn and limeade.
"The smell of Topsy's brings me back to my childhood when our parents would take us to the Plaza to see the Christmas lights and we would stop at Topsy's and get popcorn to take home," she said. "When my brother and I grew up and moved away from home, my parents would always send each of us and our spouses a canister of Topsy's popcorn for Christmas."
The sun started to set by the fourth quarter, as Matt, Lori, Ben and Aiden cheered the Chiefs on to victory, complete with celebratory fireworks lighting up the sky after the game.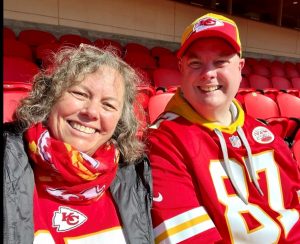 "All the way home to Lawrence we reminisced about the game and our memorable day," Lori said. "When my brother dropped me off at my home, we hugged goodbye and he shared with me that underneath his Kelce jersey, he strung Dad's wedding ring on a cord and wore it around his neck for the game. He wanted Dad to be a part of our special day too."
It was the kind of day they will be talking about for years to come. And at Topsy's, we're absolutely delighted to have been able to help one family make a memory that will last a lifetime.
"This is about more than popcorn," said Topsy's owner Bob Ramm. "This is about building and maintaining traditions that people cherish. It's the sense of family and community that makes the Kansas City area such a special place to call home. That's part of the special magic of Topsy's Popcorn."
So, whether you're celebrating the holidays with loved ones, rooting on Patrick Mahomes, Travis Kelce and the rest of the Chiefs at Arrowhead or sharing a gift with a friend, don't forget delicious Topsy's Popcorn. Get your Topsy's Game Day Experience today with Topsys popcorn!