Baby Shower Popcorn
Why Popcorn is the Perfect Party Favor for Your Baby Shower
Baby showers are one of the most joyous parties to have. Everyone, parents most of all, is excited about the future.
However, it's easy to get overwhelmed with planning. Let us take away some of the stress from that planning. Popcorn is an easy party favor that will please all your guests.
Benefits of Popcorn as A Party Favor
Popcorn comes in flavors suited to every taste bud. Craving something savory? Munch on cheese-flavored popcorn. Spice lovers will appreciate the kick of cinnamon popcorn. And caramel popcorn will satisfy any sweet tooth.
It's also incredibly easy to make. If you're planning a baby shower, you've already got enough on your plate. The only preparation you need with popcorn is to pour it out of the tin.
Of course, there are always ways to get more creative.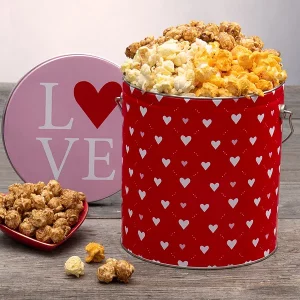 Baby Shower Popcorn Décor Ideas
Popcorn's best benefit? It can make your baby shower look even cuter than you imagined. Here are some ways to make popcorn really pop:
Put it in bags that guests can take home with them
Put a scoopful in cupcake wrappers. Arrange them on a cupcake stand
Arrange them with other snacks and favors on a table that matches your shower theme
Popcorn Food Pairings
If you're hosting a baby shower, you're likely planning for a crowd. Here are some snack choices that pair perfectly with popcorn:
Sweet:

Cupcakes
Sugar Cookies
Cake Pops
Macarons
Chocolate-Dipped Strawberries

Savory

Veggie Tray
Finger Sandwiches
Candied Bacon
Pretzels
Shrimp Cocktails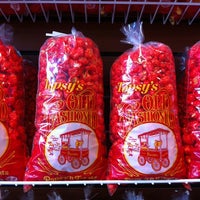 Invite Topsy's to Your Baby Shower
Take some of the stress out of your shower planning by ordering Topsy's popcorn. Our cheese, cinnamon, and caramel popcorn have been pleasing parties for decades. They're sure to make yours a hit.
Visit our website to order popcorn tins.