A Thanksgiving Tradition
November 20, 2023
The NFL Team with a Legacy of Turkey Day Games
Thanksgiving and football are as intertwined as turkey and dressing. As families across America gather to give thanks, the backdrop of NFL games adds an extra layer of excitement to the festivities. Among all the teams in the NFL, one has become synonymous with Thanksgiving Day: the Detroit Lions. This team holds the unique distinction of having played the most Thanksgiving Day games, a tradition that began in 1934.
History of the Detroit Lions
The history of the Detroit Lions began as a marketing strategy by the team's then-owner, George A. Richards, to attract more fans. Richards, a radio station owner, leveraged his media connections to broadcast the Lions' Thanksgiving game nationwide.
This move filled the stadium and solidified the Lions' place in Thanksgiving history. Since then, the Detroit Lions have played on Thanksgiving Day every year, except the World War II years (1939-1944).
But why has this tradition endured? It's more than just a marketing gimmick; it's a reflection of America's love for football and its integration into holiday traditions. For many, Thanksgiving wouldn't be complete without tuning into the Lions' game, creating memories that span generations.
Over the years, the Lions have faced numerous opponents on this special day, from the Chicago Bears to the Green Bay Packers, each game adding to the legacy. Despite their varying fortunes over the years, the Lions' Thanksgiving Day games have become a staple for football fans, offering a unique blend of sports excitement and holiday cheer.
As we celebrate this season of gratitude, it's not just about the food on the table or the parades on television; it's also about the traditions that bring us together. The Detroit Lions playing on Thanksgiving is one such tradition that has endured the test of time, bringing families and friends together around the TV, united in their love for the game.
Grab Your Topsy's Popcorn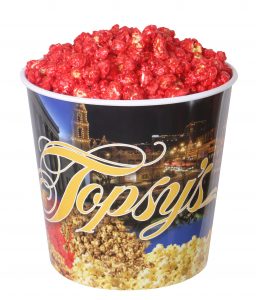 As you gather around to cheer for your favorite team, make sure to have a bowl of Topsy's Popcorn at hand. Perfect for snacking during the game, Topsy's Popcorn is a delicious treat that everyone can enjoy. So, as you plan your Thanksgiving Day, remember to include Topsy's Popcorn on your shopping list. It's the perfect companion for football, family, and fun!
Thanksgiving is a time for traditions, old and new. Whether it's watching the Detroit Lions play or enjoying a bowl of Topsy's Popcorn, embrace the spirit of the holiday and make memories that will last a lifetime. Happy Thanksgiving!