Topsy's Popcorn on Thanksgiving Game Day
November 9, 2023
Thanksgiving—a time for gratitude, gathering, and gridiron glory! As the leaves turn and the air cools, football fans know that Thanksgiving isn't just about the turkey and pie; it's also about the thrill of the game.
This year, as you prepare to cheer on your favorite teams, let Topsy's Popcorn add some gourmet excitement to your game day with our special edition popcorn tins.
Here's what's on the football agenda this Thanksgiving and how Topsy's Popcorn can make your viewing experience even more spectacular.
The Lineup:
Thanksgiving Day is set to deliver non-stop action with a lineup of games that promise to keep you on the edge of your seat. On November 23rd, tune into the Detroit Lions and Dallas Cowboys as they face off this year in the Thanksgiving day games.
Game Day Snacks Sorted:
As the touchdowns and field goals unfold, you'll need fuel to keep the energy high. That's where Topsy's Popcorn comes in! Our game day popcorn tins are filled with savory and sweet varieties that are perfect for every palette. Don't fumble with snacks that will leave you sidelined—keep the whole crew satisfied with our crowd-pleasing selections.
Why Topsy's?
Topsy's Popcorn isn't just a snack—it's an experience. Here are a few reasons why Topsy's should be your top draft pick for Thanksgiving football snacking:
Freshness in Every Tin: We pop our corn daily to deliver a fresh, crisp snack every time.
Flavor Touchdowns: With choices ranging from classic butter to rich caramel, zesty cheese, and even a mix for those who want it all, there's a flavor to score points with everyone.
Sharing is Caring: Our tins come in sizes perfect for passing around as you pass down family traditions.
Long-lasting Cheer: The sturdy, reusable tins keep your popcorn fresh from kickoff to overtime, and they're a festive addition to your home décor long after the game is over.
A Tradition of Quality: Topsy's Popcorn has been a part of family gatherings and celebrations for generations—make us a part of yours this Thanksgiving.
A Play for Every Quarter:
Plan your snack strategy around the game. Start with savory cheese popcorn as the excitement builds, switch to our butter popcorn for a classic treat by halftime, then sweeten the deal with cinnamon popcorn as you head into the fourth quarter. And for the final play? Celebrate (or commiserate) with our indulgent caramel popcorn.
Pick Up Your Topsy's Popcorn Tin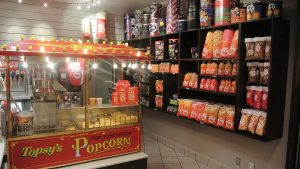 This Thanksgiving, let Topsy's Popcorn be your game plan for snacking success. With the big games ahead, ensure you have the big flavors to match. Order your game day popcorn tins now and make Topsy's a part of your holiday tradition. Whether your team wins or loses, Topsy's gourmet popcorn is sure to make your celebration complete.
So, huddle up your friends and family, get your Topsy's Popcorn tins ready, and prepare to enjoy some of the best football of the year. It's game time, and Topsy's is here to help you savor every play!
Visit Topsy's Popcorn to grab your game day popcorn tins today and make this Thanksgiving a day of flavor, fun, and football!